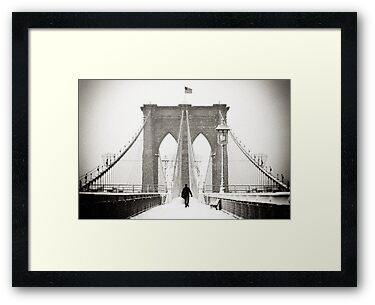 This was a very, messy and cold shot. I had to wait for several minutes in the snow for the right composition. Taken from the Manhattan side of the Brooklyn Bridge.
The Brooklyn Bridge is one of the oldest suspension bridges in the United States. Completed in 1883, it connects the New York City boroughs of Manhattan and Brooklyn by spanning the East River. At 5,989 feet (1825 m), it was the longest suspension bridge in the world from its opening to 1903, the first steel-wire suspension bridge.
Originally referred to as the New York and Brooklyn Bridge, it was dubbed the Brooklyn Bridge in an 1867 letter to the editor of the Brooklyn Daily Eagle, and formally so named by the city government in 1915. Since its opening, it has become an iconic part of the New York skyline. It was designated a National Historic Landmark in 1964.
<a href="http://en.wikipedia.org/wiki/Brooklyn_bridge" rel="nofollow">en.wikipedia.org/wiki/Brooklyn_bridge</a>