Reflections of the Basilique Notre-Dame de Fourvière (Fourvière HIll) and Bonaparte Bridge in the River Saône in Lyon, France.
In 1643, Lyon chose the Virgin Mary as its patron saint and built the Fourvière Basilica in 1896 as thanksgiving to Our Lady for protecting the city from the ravages of the Franco-Prussian War of 1870. It is known in Lyon as "the hill that prays". Fourvière Hill is now part of a UNESCO World Heritage site designated for the city of Lyon in 1998.
Also on the Fourvière hill is La Tour Métallique which was privately built by the owners of the land to rival the Eiffel Tower in Paris. It forms the highest point in Lyon and is in fact higher than the Eiffel Tower at its summit, due to it being on a hill. It is now a television relay tower.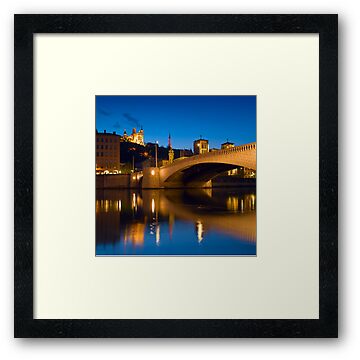 (Shown here as a framed print, black frame with off-white matte. Different options available.)