The beautiful Mont St. Michel in Normandy France during twilight.
Le Mont-Saint-Michel is a rocky, cone-shaped islet in the Gulf of Saint-Malo, connected by a causeway with the mainland. The islet is crowned with a benedictine abbey at the top which dates from the 13th century. The entire islet is about 73 meters (about 240 ft) above sea level.
Mont Saint-Michel was built in a strong rock that measures 84 meters height, and is made of pure granite that has resisted the passage of time.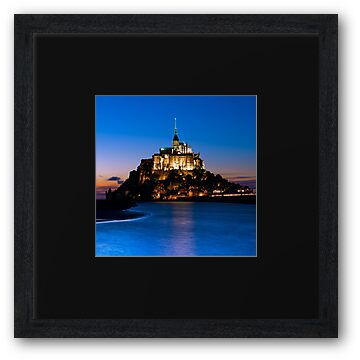 (Shown here as a framed print, a greeting card, and a poster. Framed print shown with charcoal frame and black matte. Different options available.)