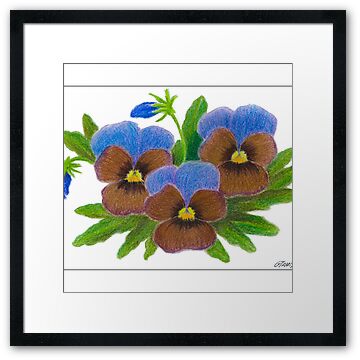 Violet Special – Pastel Pencil
This Art is Made On 2011-02-15 By RainbowArt


View My Stats
http://statcounter.com
As the name of a color, violet (named after the flower violet) is synonymous with a bluish purple, when the word "purple" is used in the common English language sense of any color between blue and red, not including either blue or red.
Since Isaac Newton listed violet as his name for the color of the short-wavelength end of the visible spectrum (approximately 380–450 nm), when both of the names purple and violet are used within the same system, violet represents colors nearer to blue, while purple is used for colors more nearly between violet and red on what is called in color theory the line of purples.
Objects reflecting only light wavelengths in the aforementioned "violet range" would appear very dark, because human vision is relatively insensitive to those wavelengths, but the color of a monochromatic light source emitting only those wavelengths can be roughly approximated by the color shown below as electric violet. The first recorded use of violet as a color name in English was in 1370.