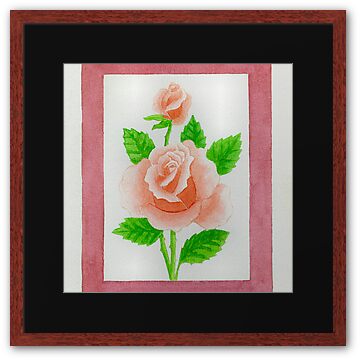 Hybrid Tea Rose Carinella – Aquarel
This Art is Made On 2011-02-13 By RainbowArt


View My Stats
http://statcounter.com
Hybrid Tea is a cultivar group of roses, created by cross-breeding two different types of roses, initially by hybridising Hybrid Perpetuals with Tea roses. It is the oldest cultivar group classified as a modern garden rose.
Hybrid teas exhibit traits midway between both parents: hardier than the teas but less hardy than the hybrid perpetuals, and less ever-blooming than the hybrid perpetuals but more so than the teas.
The flowers are well-formed with large, high-centred buds, supported by long, straight and upright stems. Each flower can grow to 8-12.5 cm wide. Hybrid Teas are the world's most popular type of rose by choice due to their color and flower form. With their long stems, it gives them the advantage, over others, as cut flowers.
Most shrubs tend to be very upright, reaching up to 1.8 metres and are repeat- or recurrent-flowering (flowering constantly during the season, unlike most wild roses and some hybrids that flower once).
The birth of the world's first hybrid tea is generally accepted to have been 'La France' in 1867. It was raised by Jean-Baptiste Guillot, a French nurseryman.
He did it by hybridising a Tea rose, supposedly 'Madame Bravy,' with a Hybrid Perpetual, supposedly 'Madame Victor Verdier,' hence 'hybrid tea.'
Other early cultivars were 'Lady Mary Fitzwilliam' (Bennett 1883), 'Souvenir of Wootton' (John Cook 1888) and 'Mme. Caroline Testout', introduced by Pernet-Ducher in 1890.
Hybrid tea roses did not become popular until the beginning of the 20th century, when Pernet-Ducher in Lyons, France, bred the cultivar 'Soleil d'Or' (1900).
But the cultivar that made Hybrid Teas the most popular class of garden rose of the 20th century was the rose 'Peace', introduced by Francis Meilland at the end of World War II and one of the most popular rose cultivars ever.
HISTORY
Most varieties, however, lack fragrance and can be difficult to grow due to a lack of disease resistance and susceptibility to cold temperatures.
This, combined with their tendency to be stiffly upright and sparsely foliage, has led to a decline in hybrid tea popularity among gardeners and landscapers in favor of lower-maintenance "landscape" roses.
The hybrid tea remains the standard rose of the floral industry, however, and is still favored in small gardens in formal situations.
Looking around for local hybrid roses is good, even if the best you can do is regional. The hybrid tea rose has a vast amount of varieties, getting one that is regional increases its hardiness and decreases its difficulty to grow.