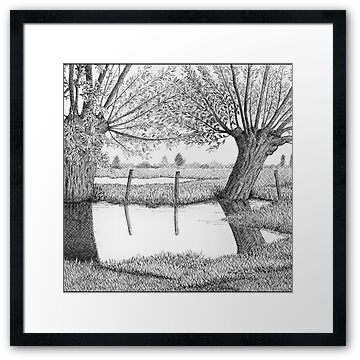 Holland, Waterland – Pen Drawing
This Artwork is Made On 2011-01-01 By RainbowArt


View My Stats
http://statcounter.com
Story About The History Of Noord Holland
You're never far from the sea in Noord Holland. Go west to explore miles of dunes or relax on sandy beaches. Towards the east you find the IJssellake (former Zuiderzee), which is great for watersports and sailing.
North Sea coast
The coast of Noord Holland is no less than 300 km, 100 km of which consists of sandy beaches.
The dunes behind them are of outstanding natural beauty and great for a refreshing walk.
For refreshments, fine dining and a vibrant nightlife, visit Bloemendaal. Recently acknowledged as the coolest stretch of coastline in the country, Bloemendaal has become a hot summer destination. The many trendy beach cafés, become alfresco nightclubs in the evening.
Water Adventures
The IJssellake is an enormous freshwater lake and perfect for water sports and fishing. The picturesque trading towns surrounding the lake date back to 1602, the year the Dutch East India Shipping Company was formed.
Sample this cultural heritage and take a tour across the IJssellake on a traditional sailing ship. In summer, they depart daily from many of the small harbours surrounding the lake. Alternatively hire a yacht and start exploring yourself!
Traditional Holland: Marken & Monnickendam
The isolated island community of Marken was only joined to the mainland in 1957, when the dyke was built. Most people still wear traditional dress and many of the old houses have been built on raised parts of land to protect them against floods.
For a relaxing day soaking up typical Dutch scenery, visit Monnickendam. Admire the 15th-century clock tower and the Gothic church before tucking into some traditional smoked eel. Hire a bike in Monnickendam and cycle to neighbouring Broek in Waterland. This charming 17th-century town and the stunning landscapes it's surrounded by was used as an inspiration for painters like Monet.
Volendam & Edam
Volendam's folklore is as alive as ever! Some of the main attractions here are the town's displays of traditional costumes and the fresh fish, which can be eaten near the picturesque harbour. The town's unusual houses are built in any which way. Make sure you don't lose your way in the maze of narrow streets and alleyways.
Neighbouring Edam also has a rich nautical history, but of course is most famous for its Edam cheese. Extraordinary facades, bridges and monumental buildings combined with convivial shopping streets and attractive outdoor cafés, make Edam a great place for a relaxing stop-over.
Afsluitdijk
There's no more dramatic demonstration of Dutch hydro-engineering prowess than the 30 km long Afsluitdijk, connecting the Friesland province with Noord Holland. Stop halfway across to see the memorial to designer/engineer Cornelis Lely and enjoy panoramic views from the observation tower.
Take a boat and go into the 17th century
The history of Enkhuizen can be relived in the Zuiderzeemuseum, which can only be reached by water. Houses, shops and workplaces typical of the Zuiderzee town have been painstakingly recreated.