MAY THE SPIRITS BE WITH YOU
_*May you live to be 100 years, with one extra year to repent.
We drink to your coffin. May it be built from the wood of a hundred year old oak tree that I shall plant tomorrow.
May God grant you many years to live, for sure he must be knowing, the earth has angels all too few and heaven is overflowing…
May the doctor never earn a pound out of you.
May the good Lord take a liking to you…
But not too soon!
May you die in bed at 95 shot by a jealous spouse.*_
*An Irish man has been at a pub all night drinking. The bartender finally says that the bar is closed. So your man stands up to leave and falls flat on his face. He figures he'll crawl outside and get some fresh air and maybe that will sober him up.
Once outside he stands up but again falls flat on his face. He crawls home. Reaching the door he tries to stand up, and yet again, falls flat on his face. He crawls through the door and up the stairs. When he reaches his bed he summons the last of his strength and tries one final time to stand.
It's no use. He tumbles into bed and is soon sound asleep, only to awaken the next morning to the sound of his wife standing over him shouting.
'So… you've been out drinking again!'
'How did you know?' he asks, his head hung in shame.
'The pub called— you left your damn wheelchair down there again!'*
*An Irish man shows up in a pub one day and orders three pints of Guinness. He takes sips from each glass until they are empty and calls the bartender for three more. The bartender says, 'Sure it's up to yourself, but wouldn't you rather I was bringing them one at a time? Then they'll be fresh and cold.'
'Nah…' your man says, ' I'm preferrin' that ye bring 'em three at a time. You see, me and me two brothers would meet at a pub and drink and have good times. Now one is in Australia, the other in Canada and I'm here. We agreed before we split up that we'd drink to each other's honour this way.'
'Well,' says the bartender, 'that's a grand thing to do, all right. I'll bring the pints as you ask.'
Well, time goes on and your man's peculiar habit is known and accepted by all the pub regulars. One day though, he comes in and orders only two pints. A hush falls over the pub. Naturally, everyone figures something happened to one of the brothers. A group of the regulars corner the bartender and finally persuade him to find out what happened. With a heavy heart, the bartender brings the two pints and says, 'Here's your pints… and let me offer my sincerest condolences. What happened?'
The Irish man looks extremely puzzled for a moment, and then starts laughing.
'Oh, no, no, no! 'Tis nothing like that. You see, I've given up drinking for Lent…'*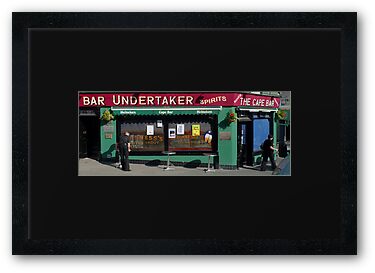 Here's to the land of the shamrock so green,
Here's to each lad and his darlin colleen,
Here's to the ones we love dearest and most.
May God bless old Ireland, that's this Irishman's toast!
'Go mbeire muid beo ar an am seo arís.'
May we be alive at this time next year.
*'Sláinte!'
(pronounced 'slawn-cha', meaning Health! A common toast in Ireland, the equivalent to 'Cheers')
'Sláinte chuig na fir, agus go mairfidh na mná go deo.'
Health to the men, and may the women live forever!
'Faol saol agat, gob fliuch, agus bás in Éirinn.'
Long life to you, a wet mouth, and death in Ireland*
Lumix Leica LX3 20mm lens 16:9
The Cape Bar, Wexford, Ireland