New light thru old windows reaches 10,000 views 12-11-2012
https://www.facebook.com/RagmanFotoArt
With an eye made quiet by the power of harmony, and the deep power of joy, we see into the life of things." ~ William Wordsworth
Ragman MASTER of Black and White Photography
awarded by Black & White Spotlight ~ THE MASTERS Dec 2010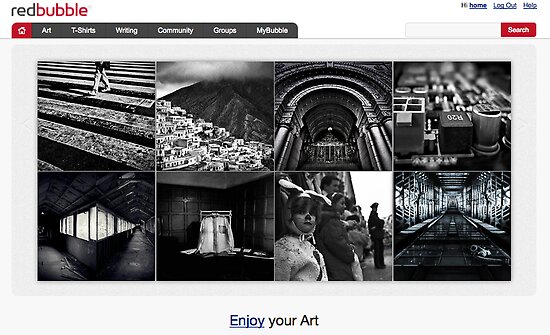 The Shirt featured on RedBubble Homepage 15th Sept 2010
Life is not merely measured by the number of breaths you take in a lifetime,
but by the number of times you have your breath taken away
Add to that the most important element of all ~ light, for if there is no light to illuminate then I won't be able to see or capture.*
In summary my strategy is quite simply ~ Space, Shape, Shade = Structure
We come across things on our journey normally things which others have not seen or neglected or passed over them. I am but a ragman, picking up things that others have discarded or overlooked, and in collecting and recording revive them and hopefully add a sparkle. The above thoughts are mine drawn from my own experience.
So what works of mine are my favourites click below to see my ten










*Ragman's Riches
Photographs – mere nothings – thrice times mere nothings ~ domestic jottings, reminders of appointments, memory joggers, unimportant meetings, small facts of little interest. Moments in the momentous lives of ordinary people – that these moments existed is never in doubt, but their unimportance within the grand scheme of things is significant only within its insignificance.
They are but ragman's riches – discarded but snatched and revived – discovered as art implements – mere artefacts. The ragman or ragpicker goes out and collects things which others have discarded (or ignored) and through his sense of beauty in the common things turns them into ragman's riches.*