Photographic Translation of Key Hole Arch En plein air by Randy Sprout
Translated SoJie 14
I dedicate this work to my little son who is always with his whole heart in my projects! Thank you Sweetie…
Thank you Randy for allowing me to do this translation, and thank you to everyone who encourage me in my work…
FEATURED IN:
♥ Artists Universe ♥ – 09/2011
The Original: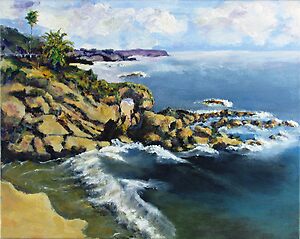 Key Hole Arch En plein air
by Randy Sprout
WIP 1
I used my washing machine's top lit for my base. My husband was really upset when I've asked him to unscrew it from the machine… :-) I was really upset that he couldn't understand why I was doing this! He asked if I next time going to ask him to strip the oven for me to take pictures… !! Well, I really don't know why I asked him, for I could've done it myself… ;-)
I painted the background onto a piece of cloth…
I bend an old wire for the keyhole rock, and glue some pebbles to it with my glue gun…
WIP 2 of my Photographic translation of Key Hole Arch En plein air by Randy Sprout
I arrange some sand, pebbles and small rocks to shape my beach scene
Okay… I find me some leafs to use as trees, and some small plants. I add some blue paint to the water and some washing powder… My little on made me some waves with the hairdryer…
Thank you Randy for the opportunity to translate your work! I hope you like it!