Even with the wipers going at full speed, the view through the windscreen is a blurred mix of brake lights and neon glows. It's a good job that there's nobody out walking in this, I would never see anyone crossing the street in this downpour. I'm trying to keep my attention to the front, my eyes on constant alert for any movement that could be a pedestrian in the street or some goon with no lights on their car but the smell of her perfume keeps tickling the back of my mind and I glance up at the mirror.
Sitting in my backseat, she looks like a frightened child. Her eyes are constantly on the move and her beauty can't hide the tension in her face. She keeps glancing over her shoulder, out of the rear window and every side street that we pass, she acts as though a demonic gang of axe wielding bikers are going to emerge from it, coming straight at us.
"Hey relax." I try to comfort her. "You're safe in here with me and besides, I know kung fu and I'll karate chop any dudes that mess with us."
A smile flashes across her lips but doesn't reach her eyes. "You mind if I smoke?" she asks already fishing in her bag for a cigarette.
"knock yourself out." I like it when my fares smoke, it gives me the opportunity to do the same. "So what kinda trouble you in? Some ape won't leave you alone?"
She sucks on her cigarette and lets the smoke start to roll from her mouth before inhaling deeply and drawing the miniature cloud down into her lungs. This girl knows how to smoke.
"I wish it was boyfriend trouble, god that would be great. Let's just say that if what I know, gets into the wrong hands, one way or another I won't need to worry about the weather anymore." Another glance over her shoulder.
"Well, I'm just glad that I can help to get you to where you're going. Where do you wanna go by the way?"
She is still looking over her shoulder "Shit" she whispers.
"You think there's someone following you?" I ask and my attention is now on the lights behind us. One set of lights keeps appearing from behind another car and then sliding back over, as though they keep pulling out to make sure we are still there and then ducking back for cover behind another car. Christ she's got me at it now. Mind you I've been tailed enough times to know the signs.
"There's a car back there that keeps dodging in and out" She explains. "I was sure that I shook them off…" this last is more to herself than to me.
"Yeah, I can see him." I say. "Nobody can see much in this rain. He's probably just making sure there are no surprises up ahead." This guy has really got my attention now. It's almost as though he wants us to see him. There he goes again, a quick move to the…
"Watch out!" My fare is pointing to the street in front of us as she screams.
I turn to see what I can only describe as a brick wall wearing a trench coat, standing in the middle of the street directly in front of us. I slam on the brakes, the wheels lock and we start to slide. "Jesus Christ!" I breath "Move you nut!" I scream at the guy but he just stands there.
I shut my eyes to the sound of screams coming from the back seat and after what seems like far too long, we shudder to a halt. The engine stalls and there is silence. As my senses get hold of themselves, I can hear the rain on the roof and the tink, tink, tink of the engine cooling. I look up, straight into the eyes of the biggest guy I have ever seen. When I say big, I don't mean tall. He can't be much over 5 feet but this guy is as wide as he is tall. The rain is bouncing of his shoulders and shaved head, creating a kind of halo around him. God knows where he buys his clothes. The XXXXXL store?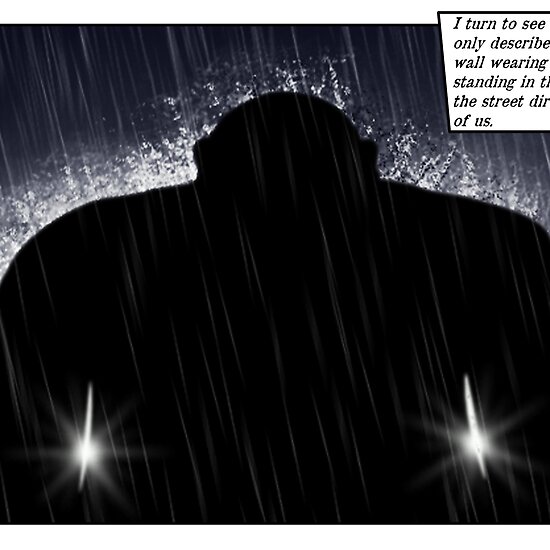 The girl in the back is scrabbling with the door handle trying to get out "Oh god, oh god, oh god" she cries.
Before I have time to register what is going on the trench coat wearing gorilla stomps round to the side of the car, rips it open and drags the girl out by her arm. I can't believe what I am seeing but he actually throws her over his shoulder and runs off, disappearing into the blur of rain. All I can do is sit there like an idiot with my mouth open.