Another Macro shot of the Horny Toad.
More info on Horny Toads below
This was taken in my backyard, Odessa, Texas with a Panasonic FZ50
FEATURES and CHALLENGE WINS and TOP 10 PLACES
1. This was Featured as well as getting Macro of the Week in…The World As We See It or As We Missed It Group! 11/2001
2. This was Featured in the …Disability and Beauty Group! 11/09/2011
"Horny Toad 2":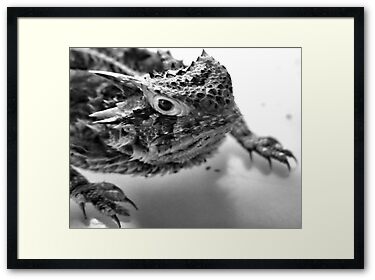 Info on the Horny Toad as found in Wikipedia:
Horned lizards (Phrynosoma) are a type of lizards that are a genus of the Phrynosomatidae family of lizards. The horned lizard is popularly called a "horned toad", "horny toad", or "horned frog", but it is neither a toad nor a frog. The popular names come from the lizard's rounded body and blunt snout, which make it resemble a toad or frog. (Phrynosoma literally means "toad-bodied".) The spines on its back and sides are made from modified scales, whereas the horns on the heads are true horns (i.e. they have a bony core). There are 14 species of horned lizards in North America, eight of which are native to the United States. The largest-bodied and most widely distributed of the U.S. species is the Texas horned lizard (P. cornutum).
Description
Horned lizards are morphologically similar to the Australian thorny devil (Moloch horridus), but are only distantly related. They also have other unique similarities, such as being sit-and-wait predators and preying upon ants, and so the two species are considered a great example of convergent evolution.
Horned lizards use a wide variety of means to avoid predation. Their coloration generally serves as camouflage. When threatened, their first defense is to remain still to avoid detection. If approached too closely, they generally run in short bursts and stop abruptly to confuse the predator's visual acuity. If this fails, they puff up their body to cause it to look more horny, making it appear larger and more difficult to swallow. At least four species are also able to squirt an aimed stream of blood from the corners of the eyes for a distance of up to five feet. They do this by restricting the blood flow leaving the head, thereby increasing blood pressure and rupturing tiny vessels around the eyelids. This not only confuses predators, but also the blood tastes foul to canine and feline predators. It appears to have no effect against predatory birds. To avoid being picked up by the head or neck, a horned lizards ducks or elevates its head and orient its cranial horns straight up, or back. If a predator tries to take it by the body, the lizard drives that side of its body down into the ground so the predator cannot easily get its lower jaw underneath the lizard.