An antique Coca-Cola machine .
This is an old …water bath "Slider " Coke Machine.
Lifting the lid revealed glass soda bottles submerged in chilled water, their necks protruding from horizontal slots in a metal plate. Buying a coke involved depositing coins and sliding the chosen bottle to the left and into a little bay where the bottle could be pulled up through tipping doors unlocked by the money in the slot.
Two features about buying a soda from this machine are… first, the soda came out very cold and wet. On a hot day, it was great to hold the bottle in your hand or press it to your forehead or cheek. Second, buying a soda from this kind of machine had a game-like quality. Often different kinds of soda were mixed together in the slots of the machine: Coke, Hires Root Beer, Orange Crush. To get the soda you wanted, you sometimes had to play a little Rubic's cube game of sliding unwanted bottles out of the slot and into another row so that you had a clear path to the exit bay. This was a much more participatory form of soda purchase than today.
These "Slider " cola machines were made by companies called Glasco and Ideal.
This was taken out front of an Antique store in Odessa, Texas with a Panasonic FZ50
FEATURES and CHALLENGE WINS and TOP 10 PLACES
1. This was Featured in ….ThE fInE aRt Of pEEliNg PaINt Group! 04/09/2010
2. This was Featured in the …The World As We See It , or as we missed it Group! 05/04/2010
3. This Placed in the Top 10 in the Challenge…Coca Cola..in the Group..The World As We See It , or as we missed it Group! 05/09/2010
Old "Slider" Coca-Cola Machine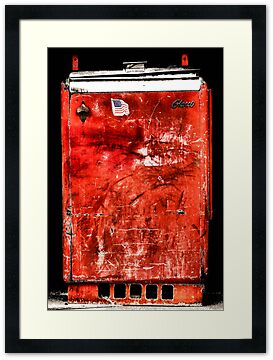 Old Coca-Cola Machine