This is a 1951 Bullet Nose, Studebaker…Down below you will find a bit of info on this car!
These were taken out at my Aunt Maryann's Farm , a place she Loved with all her heart! This whole series has been done in the ,Loving Memory of my Aunt whom lost her long and brave fight with cancer a little over a year ago! and I have done this series in her Honor !! May she rest in Peace now!
This was taken in Lampasas, Texas with a Panasonic FZ50
FEATURES and CHALLENGE WINS and TOP 10 PLACES
Sign's Of Extreme Neglect ( BoneYard Series )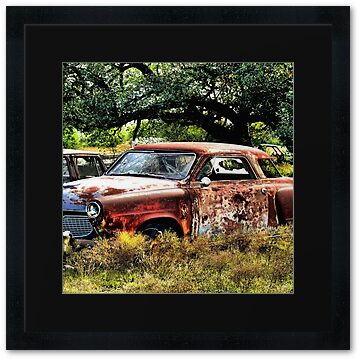 THE BULLET NOSE YEARS 1951 & 1952
In 1947, Studebaker introduced a radical new body that they would continue to use until 1952. The 1947, '48 and '49 models had a somewhat flat grill, but that was changed in 1950 and '51, thanks to Bob Bourke's bullet nose design. This website's focus is on the bullet nose models of 1950 & 1951. Some of the Studebakers you will see on this website were built before 1950 but have the '50 or '51 sheet metal added in place of their original front ends. You will also see some other cars that have the Studebaker bullet nose front end added to them.
Three models of Studebaker were available during the bullet nose years; Land Cruiser, Commander and Champion. The Land Cruiser was only sold as a four-door sedan and was basically a stretched version of the Commander four-door with longer rear doors. The Champion was a shorter version of the Commander in 1950 but in 1951 they were built on the same chassis. Wheelbase dimensions are:
1950 Land Cruiser – 124 in.
1950 Commander – 120 in.
1950 Champion – 113 in. 1951 Land Cruiser – 119 in.
1951 Commander – 115 in.
1951 Champion – 115 in.
The Commander and Champion body styles included the four-door sedan, two door sedan, business coupe, convertible and the Starlight Coupe, which was designed by Raymond Loewy.
In 1950, the Land Cruiser and Commander had a 245 cu. in. flathead six that produced 102 hp. The 1950 Champion had a 169 cu. in. flathead six that produced 85 hp. 1951 saw some changes as Studebaker introduced a V-8 engine in the Land Cruiser and Commander lines. This 232 cu. in. OHV engine produced 120 hp. The Champion used the same 85 hp flathead six engine in 1950 and 1951.
Each model had different trim levels available to the buyer. The bare bones Champion was called the Custom. The next level up in the Champion line was a Deluxe model and the top of the line was called a Regal. The Commander had two trim options. In 1950 the bottom level was called Deluxe and the top level was a Regal Deluxe. They changed the names in 1951 to Regal and State. The Land Cruiser was the top of the line model and had no options for trim level. Some body styles, like the Champion convertible, only had one trim option which was the top of the line Regal. Production numbers for model, body style and trim level were:
1950 1951
Convertible Commander Regal Deluxe/State 2,867 3,770
Champion Regal 9,362 4,742
Starlight Coupe Commander Regal Deluxe/State 7,375 11,637
Commander Deluxe/Regal 4,383 8,192
Champion Regal 29,966 14,103
Champion Deluxe 19,028 9,444
Champion Custom 3,583 2,781
Business Coupe Commander Regal 1
Champion Regal 849 373
Champion Deluxe 2,082 961
Champion Custom 1,562 2,429
Two-door Sedan Commander Regal Deluxe/State 2,363 3,903
Commander Deluxe/Regal 4,588 8,034
Champion Regal 21,976 8,931
Champion Deluxe 45,280 18,591
Champion Custom 19,593 10,689
Four-door Sedan Land Cruiser 24,712 38,055
Commander Regal Deluxe/State 14,832 21,134
Commander Deluxe/Regal 11,440 29,603
Champion Regal 55,296 35,200
Champion Deluxe 46,027 26,019
Champion Custom 16,000 9,972
Studebaker produced 343,164 cars in 1950 and 268,564 cars in 1951. That means there was a total of 611,728 Studebakers produced during the bullet nose years and, if you look hard enough, you should be able to find one. When you do, and modify it, don't forget to send us a picture of it so it can spend some time in Bullet Nose Paradise.
#This info was found on the web at this web address:
http://www.citlink.net/~junge/BNYears.htm