In this one she was trying to lick some of the icing off her face ! lol
My Grand-daughters 2nd Birthday party just before the sugar rush kicked in ! lol lol All she would eat and wear of her cake was the icing …she would scoop off big clumps of it and stick it into her mouth and as seen here not all would make it and she had icing all over from head to toe!! lol lol
This little girl has such an expressive little face ! She brings such Happiness,Joy and Life to all around her! With her ability to make the saddest of people forget, even if it is only for a short while,all there troubles,what ever they maybe, with this Wonderous and Amazing laugh she has and the joy of life that just flows from her,you just can't help from being caught up in it and laughing right along with her!! She has such a special gift that I hope she never looses!
This was taken at a park here in Odessa, Texas with a Panasonic FZ50.
High Key editing done on this in Corel Paintshop Pro.

FEATURES and CHALLENGE WINS and TOP 10 PLACES
1.This was Featured in the …Sisterhood Group! 01/17/2010
2. This Placed in the Top 10 in the Challenge…Baby Faces….with in the Group..Simply White Artwork Gallery ! 01/30/2010
3. This was Featured in the…Disability and Beauty Group! 02/03/2010
4.This was Featured in the …#1 Artist Of Red Bubble Group! 03/01/2010
5. This was Featured in the …You Big Softy Group! 08/05/2010

Faith " Good To The Last Bite "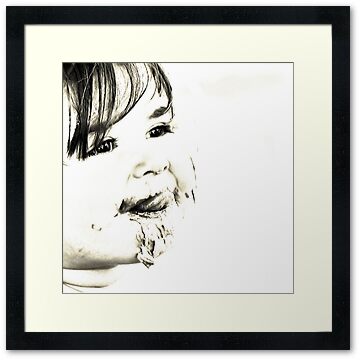 Faith " Indulging In Life's Pursuit Of Happiness "


Oh My Goodness..What Is That?