This was the last stop of our day long hike through Ricketts Glen State Park. This bridge crosses Kitchen Creek, just below Adams Falls, south of PA Route 118.
After photographing the last waterfall in the park, it was just a short climb out of the glen from here. I decided to catch one more shot on the way out. I tried to duplicate a shot of this footbridge that I had taken last May, to compare the seasonal views.
Ricketts Glen is located along RT-118, at RT-487, in north eastern, Pennsylvania, USA. The nearest town is Red Rock, PA, about half way between Williamsport and Wilkes Barre.
This photo was taken in the late evening of March 2nd, 2011, at sunset. This was taken at the end of a winter hike through Ricketts Glen, with RedBubble memeber, Kevin Hart.
This last photo of the day was captured with a Canon EOS 10D DSLR camera, through a Canon EF 17-40mm f/4L lens at the 17mm focal length. The shutter speed was 1.5 seconds at f/11. The camera's ISO was set to 200. A light Bilora Super-Biloret tripod was used with a Bogen head.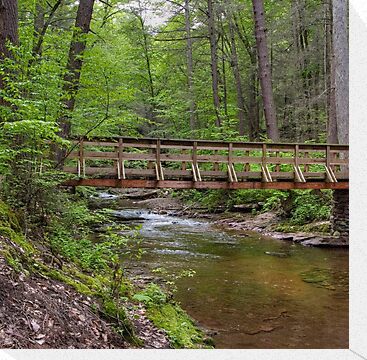 Same bridge, as photographed last spring
Your comments are always welcome! Constructive criticism is appreciated.
© 2011 Gene Walls
All copyright and reproduction rights are retained by the artist. Artwork may not be reproduced or altered by any process without the express written permission of the artist. A copyright watermark is embedded within the image to guarantee successful prosecution, in the event of any violation.
FEATURED in "The World As We See It…"