My family decorates our fresh Christmas tree with the very old ornaments from our youth. So many wonderful Holiday memories are set free at the mere sight of the, now antique, glass balls and trinkets that are hanging on our tree.
Now our grown sons have their own magical childhood memories, that they also associate with the traditional decorations that we still use every year.
This classic Three Wise Men Christmas ornament was produced in the latter 1940's.
This would make a wonderful Christmas Card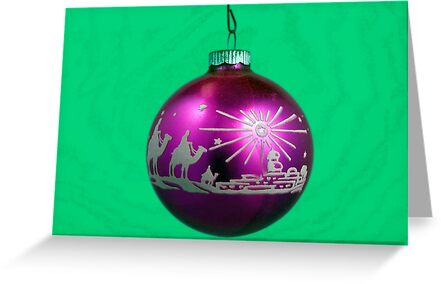 THIS IMAGE IS AVAILABLE AS A CUSTOMIZED CHRISTMAS CARD. IF YOU WOULD LIKE TO HAVE A SPECIAL GREETING OR SENTIMENT ADDED TO THIS CARD, JUST CONTACT ME THROUGH BUBBLEMAIL WITH YOUR REQUEST. I WILL UPLOAD THAT VERSION TO REDBUBBLE TO MAKE IT AVAILABLE FOR PURCHASE.
This macro photo was captured with a Canon EOS 10D using a Canon EF 50mm f/2.5 Compact-Macro prime lens. The shutter speed was 1/20th sec at f/6.7. The camera's ISO was set to 100. A Manfrotto tripod was used with a remote shutter release.
Your comments are always welcome! Constructive criticism is appreciated.
© 2010 Gene Walls
All copyright and reproduction rights are retained by the artist. Artwork may not be reproduced or altered by any process without the express written permission of the artist. This includes my image AND THE 100% ORIGINAL TEXT that describes the work. A copyright watermark is embedded within the image to guarantee successful prosecution, in the event of any violation.