You are viewing my last photograph of this fully bloomed rhododendron. As you can see, all of the initial shoots on the bud have blossomed into this gorgeous azalea flower. My "mission" is finished!
As some of you may know, I had selected a single specific bud on this large rhododendron bush as my "subject" on April 24th of this year. My intention was to graphically show exactly how an azalea grows, from a spring bud, to a mature sprig of beautiful azalea flowers.
I chose this particular portion of the plant because I could place my tripod & camera in an easy to access and repeatable location for every photo. This camera position also allowed the bright red General John Burrows footbridge to be a constant backdrop for the entire series. My first image of this set was captured in April. I have since made eight return trips to this precise spot, a couple times each week, to record the ever evolving growth progress.
The New Bud – April 24th
New Shoots – May 3rd
*Deep Purple Blossoms Revealed – May 4th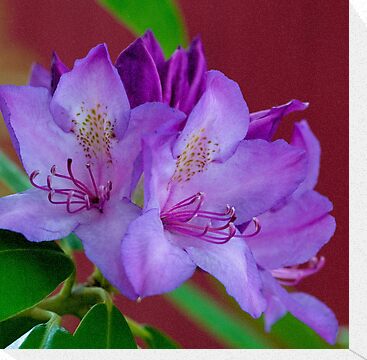 First Flower – May 6th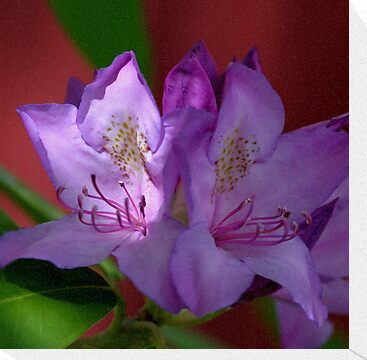 More Flowers – May 7th
This final closeup photo was captured today, Saturday, May 15th, 2010, using a Canon EOS 10D with a Canon EF 100mm f/2.8 USM Macro prime lens. The shutter speed was 1/180th second at f/4.5. The camera's ISO was set to 400. A Manfrotto tripod was used with a Manfrotto 222 head. A remote shutter release cable was also used to eliminate camera movement.
Your comments are always welcome! Constructive criticism is appreciated.
© 2010 Gene Walls
All copyright and reproduction rights are retained by the artist. Artwork may not be reproduced or altered by any process without the express written permission of the artist. A copyright watermark is embedded within the image to guarantee successful prosecution, in the event of any violation.
FEATURED in "The World As We See It"
FEATURED in "Rhododendrons and Azaleas"
FEATURED in "#1 Artists of RedBubble"