*Once again, I returned to Indian Park to check in on the large rhododendron bushes along Mill Creek. I know that they are about to bloom very soon. As you can see, the buds are coming along very nicely. They had just been well watered by a passing thunderstorm, shortly before I took this photo.
The General Burrows covered bridge provided a beautifully colored background for this flowering bud. I can't wait to see some fully blossomed purple azalea flowers against the same backdrop. We'll see if I can can catch that image in a few days.*
*GOT IT!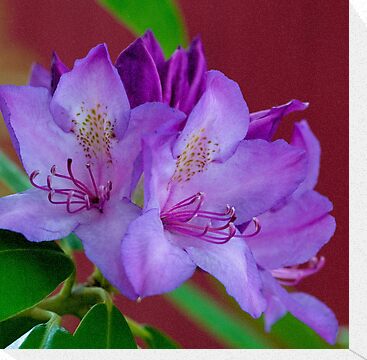 Same "Bud", Three Days Later
Two Days Earlier
This macro photo was captured on May 4th, 2010, with a Canon EOS 10D using a Canon EF 100mm f/2.8 USM Macro prime lens. The shutter speed was 1/125th sec. at f/2.8. The camera's ISO was set to 100. A Manfrotto tripod was used with a Manfrotto 222 "pistol grip" head.
Your comments are always welcome! Constructive criticism is appreciated.
© 2010 Gene Walls
All copyright and reproduction rights are retained by the artist. Artwork may not be reproduced or altered by any process without the express written permission of the artist. A copyright watermark is embedded within the image to guarantee successful prosecution, in the event of any violation.
FEATURED in "The World As We See It"