Spring is here, so it was time to revisit the General John Burrows memorial covered footbridge, to see what changes the new season has brought. A storm was coming in from the south west, as you can see above the ridge of Bald Eagle Mountain in the distance.
This is the spring view from Indian Park (Municipal Park) in Montoursville, Pennsylvania. The footbridge spans Mill Creek, which runs through a section of the park. The bridge was constructed in 1988, as a memorial to several local community leaders and war heroes. It is called "The General John Burrows Covered Bridge". This unusual footbridge is a wonderful homage to all of the great Pennsylvania Historical Covered Bridges, that are found throughout our region in the "Keystone State".
This photo was just taken last evening, April 24th, 2010. It was shot with a Canon EOS 10D using a Canon EF 17-40mm f/4L zoom lens set to 40mm. The shutter speed was 1/180th sec. at f/8. The camera's ISO was set to 100. A Manfrotto tripod was used with a remote shutter release cable.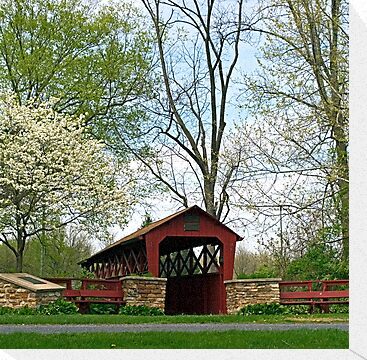 Your comments are always welcome! Constructive criticism is appreciated.
© 2009 Gene Walls
All copyright and reproduction rights are retained by the artist. Artwork may not be reproduced or altered by any process without the express written permission of the artist.
FEATURED in "The World As We See It"
FEATURED in "Covered Bridges Plus