A young Amish couple was actually enjoying themselves in an open buggy while the snow was falling like crazy. He was driving while she held the large umbrella over their heads. The wool blanket covering their legs was turning white as the snowflakes were accumulating on their laps. She was laughing heartily as they passed by at a quick trot.
It was completely unexpected when the young couple drove by. I had just gotten back into my van to leave (after shooting my favorite abandoned farmhouse), when I heard the horse's hooves clomping up the hill. I got my camera (which was still mounted on the tripod) up to my eye, just in time to catch this shot through the windshield!
Behind the buggy, you can see the roof of the "Forgotten Farmhouse", covered in snow. This location is just east of Clarkstown, Pennsylvania, in Muncy Valley, USA. The photo was captured in December of 2009, during our first big snowstorm of the season.
I have tremendous regard for the Amish people. I choose to avoid showing recognizable faces in my photos of the Amish, out of respect for their wishes, unless they grant permission.
The Amish are about the most "eco-friendly" people on earth!
This image is also available as a Christmas Card
"Merry Christmas Buggy Ride • Christmas Card":http://www.redbubble.com/people/profaudio/art/4...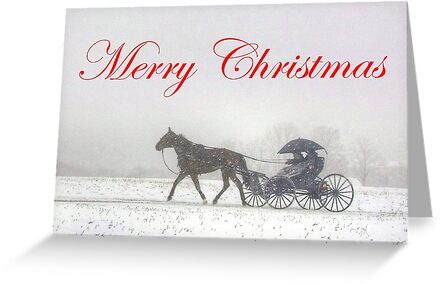 This photo was taken hand-held with a Canon EOS 10D camera body using a Canon EF 35-350mm f/3.5-5.6L zoom lens set to 35mm. The shutter speed was 1/180th of a second at f/9.5. The camera's ISO was set to 100.
Please note that this is a full color photograph, the heavy snow and dim evening light just makes it look like it was shot in B&W.
Your comments are always welcome! Constructive criticism is appreciated.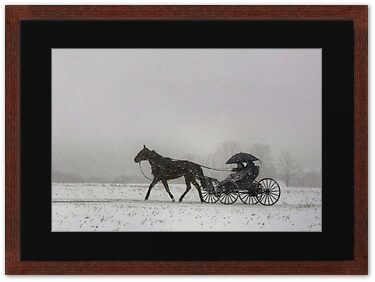 © 2009 Gene Walls
All copyright and reproduction rights are retained by the artist. Artwork may not be reproduced or altered by any process without the express written permission of the artist. A copyright watermark is embedded within the image to guarantee successful prosecution, in the event of any violation.
3,566 Views and 140 "Faves" as of 1/19/2013
"Winner of the "Snow Is Falling" Challenge in the Where On Earth Is This Group
(Rare 5-way tie for First Place)
WINNER in the Most Viewed challenge in "Horse and Rider"
FEATURED on the RebBubble Home Page on August 24th, 2010
FEATURED in "ImageWriting"
FEATURED in "Canon DSLR"
FEATURED in "The World As We See It…"
FEATURED in "Along The Rural Road"
FEATURED in "High Quality Images"
FEATURED in the "Transport" group
FEATURED in "Winter 2011 in the North-East USA"
FEATURED in "Beautiful East Coast (USA)"
FEATURED in "History"
FEATURED in "Challenge Winner's Vault"
FEATURED in "The Spirit of the Season"
FEATURED in "Photographer's Vault"
FEATURED in "Beautiful"
FEATURED in "All Things Naturally Black & White"
FEATURED in "Hometown Photography"
FEATURED in "Country Roads & Country Views"
FEATURED in "Welcome Pennsylvania"