Construction has been completed on the new Arch Street Bridge in north central Pennsylvania, USA. I have been photographing the old bridge and construction of its replacement span for several years. My purpose has been to save a permanent photographic record of the old bridge, as well as the new "improved" structure.
There is no question, the new bridge is certainly safer and easier to negotiate. However, all of the stately charm and historical significance of the bridge has been lost forever. I guess that's the cost of "progress".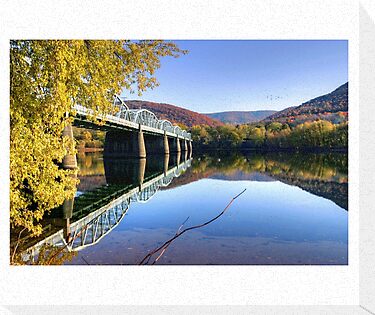 The Original Arch Street Bridge Is No More… Except in Photos and Memories
The Arch Street Bridge connects the city of Williamsport to the borough of Duboistown, on the southern shore of Susquehanna River's west branch. The old steel truss bridge was officially listed in Historic Bridges of the United States (NIB #412064001000000). The original bridge was the first and only span over the river into Duboistown. It was built in 1923 and was demolished earlier this year, after 90 years of service to our local communities.
This photo was captured from the shore of Susquehanna State Park on the evening of May 23rd of 2013. It was shot with a Canon 5D DSLR, through a Canon EF 17-40mm f/4L lens, at the 35mm focal length. The aperture was f/13 with a 1/80th second shutter speed at ISO 100, in RAW format. The image is presented "as-is", with no alterations, enhancements or cropping.
© 2013 Gene Walls
All copyright and reproduction rights are retained by the artist. Artwork may not be reproduced or altered by any process without the express written permission of the artist. A copyright watermark is embedded within the image to guarantee successful prosecution, in the event of any violation.