*Photograph taken over Mildura Victoria Australia during "The World Hot Air Balloon Championships"
I was using a Leica R9 with a Leica Summicron-R 90mm f/2 Lens & Agfa Proffesional High Colour Saturation Film.
I was in the ballon above this one.
I was deperate to have the car in the image, I saw it approaching from the left a minute or two before we passed over the ballon below.
I had no control of the situation and just managed to get it in the shot as I had been panning all the while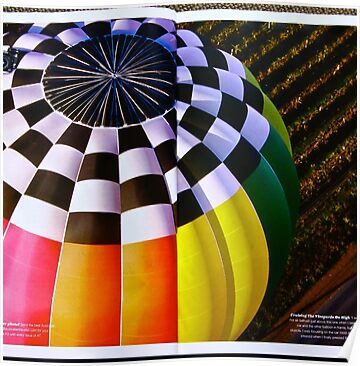 I was reading a copy of "Australian Traveller" magazine last month, it is a wonderful glossy mag with amazing images from all over Australia.
I noticed a photographic competition with a prize of a Canon 450D camera with an 18-55mm IS lens and a 55-250mm IS lens.
I entered my "Cruising The Vineyards" shot
and was so thrilled today when buying the latest issue to see there was a double page photograph of my shot today 26th May 2010
I had won the prize and been published!
Featured in the group"Come Fly With Me
Featured in the group "It's In The Detail
Photograph came 2nd in the NSW Australia Day
Australian Post Photographic Competion