VIEWS: 921…..7-17-13
FEATURED:
INTERNATION WOMEN'S PHOTOGRAPY….8-11-13
A PLACE TO CALL HOME…..7-17-13
BACKYARD PHOTOGRAPHY…..7-15-13
WITHERED…..7-14-13
WHERE ON EARTH IS THIS?…..7-14-13
THE WILD WEST SHOW….7-13-13
WHERE ON EARTH IS THIS?…..7-13-13
PRESERVING HISTORY…..7-12-13
EVERYDAY WOMEN…..7-11-13
100% GROUP…..7-11-13
SHAPES & PATTERNS…..7-11-13
OLD & ABANDONED VEHICLES…..2/10/10
OLD THINGS…1/10
WILD WEST SHOW..Jan 15, 10
RETIRED & HAPPY…Jan 9, 10
AMERICAS..RURAL, URBAN, WILD, FREE…1/10
NORTHERN CALIFORNIA…1/10
RURAL AROUND THE WORLD..Nov 13, 09
CHALLENGE WINNER…2way tie:Old & Abandoned Vehicles…..7-9-13
CHALLENGE WINNER..3way tie: Vintage Transportation…OLD THINGS…1-14-11
CHALLENGE WINNER: Old & Abandoned Vehicles…7-31-10
(Sony A350 DSLR)
Bodie began as a mining camp following the discovery of gold in 1859 by a group of prospectors.
By 1879, Bodie had a population of approximately 5000-7000 people and around 2,000 buildings (including 65 taverns.) Main street was 1 mile long.
A fire ravaged much of the downtown business district in 1932 and was rebuilt.
Today, Bodie is preserved in a state of arrested decay. Only a small part of the town survives. Visitors can walk the deserted streets of a town that once was a bustling area of activity. Interiors remain as they were left and stocked with goods.
Bodie is now an authentic Wild West ghost town. The town was designated a National Historic Landmark in 1961, and in 1962 it became Bodie State Historic Park. A total of 170 buildings remained.
Featured: RURAL AROUND THE WORLD..Nov 13, 09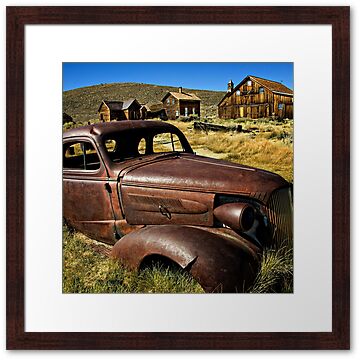 *