A little sqare of pretty houses in Bergerac France.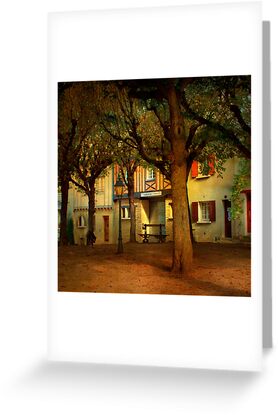 The Bergerac area has produced wines since the thirteenth century, and has exported wines since 1254, when it began shipping its vintages to England based on special privileges granted by Henry III of England. These dispensations gave the Bergerac community the right to assembly, special tax exemptions and the right to ship their wines to Bordeaux unhindered. By the fourteenth century, Bergerac had strictly defined quality standards for its wine growing areas. Despite Bergerac's special privileges, during this period, Bordeaux was known to use its position, downriver and near the mouth of the Garonne river, to give its own wines priority over barrels of Bergerac wines being transported on freight carrying "gabarres" (river barges). However, the Parlement of Guyenne granted Bergerac a charter to transport freely its wines to the Atlantic in 1511. By that time, the Protestant-dominated Bergerac was also trading with Holland and Scandinavia via an overland route.
Information from Wikipedia,
Canon 500d 18-55 mm lens
hdr 1 shot processed in dynamic photo.