Selene was a normal kid, never had any problems. her studies were easy, cause she was clever and a good student. She had a normal life. untul the day her parents both died in a car accident. And not just a stupid accident. a hit and run, criminals who wanted to create a diversion to escape. They were never caught, Selene never got her closure, as there was noone to unleash her frustrations onto. As she was raised catholic, she went to church to find answers, weeks, months after the funeral. when she asked her Priest what she should do to bring her parents back he said it was impossible. Selene didn't knew that word, sho she looked into the occult. She found a misanthrope, who introduced her to the secret art of demonism. and then it was the time. to bring her parents back, and search for the revenge of their murderers.
it took months to prepare, but what happend did none of the two forsee! The powers she gained were very powerfull, but drained in pure evil. After hundreds of years Satan finaly found a soul strong enough to not be vanished by the wickedness pumped in the body, so he gave her all he had. The noble thought of bringing back her parents dissapeared as snow in the sun, and the stronger feeling of Hate got the upperhand easy.
Now she is one of the most evil villains terrorizing the world, marking her victims with the hot end of the handle of her knife. the mark of the devil…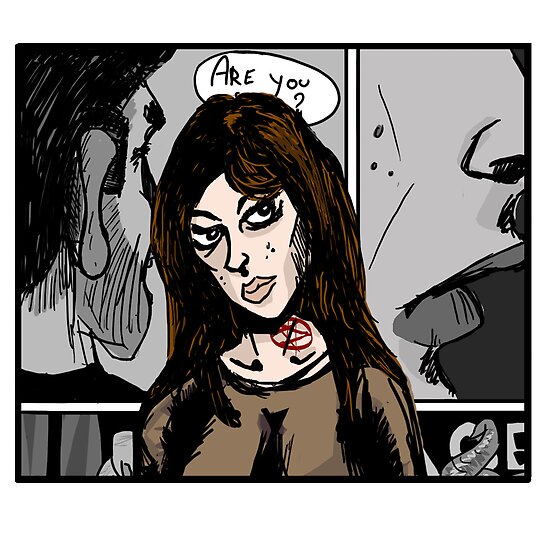 So yeah, tell me what you think :) i always love vigilante stories, and that was what i was supposed to draw now, untill i started with the panels for the background. i figured that when you make a deal with the devil, you can't just go do your thing, but instead turn evil.
So yeah its not mentioned in the page, but her powers are super awesome! She has a lil bit of Wolverine (regeneration), a litle bit of Superman (strength), a bit slower than the Flash and the lifespan of a vampire. But not like edward cullen.
Oh Yeah, here's the whole comic for those who want; http://www.redbubble.com/people/pieterdc/art/78...
This has to be the longest description i ever made :) if you're reading this, thank you for pulling through!! Don't forget to vote! Selene needs you! :D