Photo made : 05/16/2012
Camera : Lumix FZ 28
Place : Bolsward the Netherlands
Location : My front garden
As is straight from the camera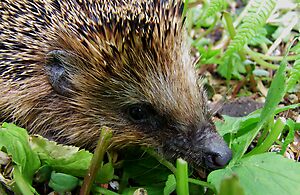 The European Hedgehog (Erinaceus europaeus), Common hedgehog , is a hedgehog species found in northern and western Europe. It is about 20 to 30 cm in length and adult weight typically ranges from 600g (after hibernation) to 1,200 g (prior to hibernation) and occasionally may reach as much as 1,600 g. Males tend to be slightly larger than females.
The European Hedgehog lives in woodland, farmland and suburban areas. It is nocturnal, and if alarmed will roll into a ball to protecting itself against potential predators with its spines.
Source: Wikipedia, the free encyclopedia