---
7007 views and 11 Favourites as of 14 March 2014
---
---
1948 International Harvester Pick-up KB-2 photographed 22 May 2011 at a Classic Car exhibit in St-Lambert, Quebec, Canada
Original photo processed in PaintShop Pro v9. A duplicate layer was created and converted B&W. A mask layer was added and modified to allow the coloured image of the truck to show through. The B&W layer was then darkened and blurred to lessen its impact.
Camera: Canon EOS 5D; Lens: Canon EF-24-105mm f/4.0L IS USM; f/4.0 @ 1/500 sec; ISO 400; Focal Length: 45mm
---
The KB-2 was a 3/4 ton pick-up that came with an 82-horse flathead six engine. They were best known for their durability, prewar design in a postwar era, and low price. The followup to the K, the KB, was introduced in 1947, with the characteristic difference being a widened lower grill appearing like "wings".
---
Previous milestones:
6000 views as of 29 November 2013
5000 views as of 13 August 2013
4000 views as of 27 April 2013
3000 views as of 19 December 2012
2000 views as of 6 June 2012
1000 views as of 6 January 2012
---
Sold:
One 4×6 postcard – 23 January 2012
One 12×8 Photographic print – 24 January 2013
---
FEATURED in:
---
Challenge Winner in the following challenges:
---
TOP TEN Challenge Placements:
Placed 2nd in the Top 10 of the Selective Color challenge in the 49er with Wheels group on 3 August 2011
---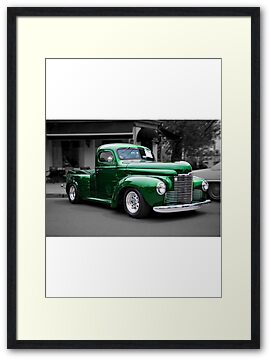 ---