This little pond would not be visible from the road, but for the tall cattails showing their green heads above the rocky crest.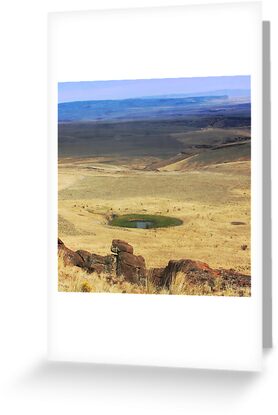 Jarbidge Wilderness – Idaho – Nevada – Utah, USA
(2010.SEP.21)
A mystical land of volcanic rock and deep chasms cut by the Salmon Falls Creek. Accessible by miles and miles of unpaved road starting from Rogerson, ID or Mountain City, NV
About 15 miles southeast of Rogerson, Idaho; the Jarbidge Mountain Wilderness divides southern Idaho and northern Nevada; I can't say with exact precision, which of those states I was standing in, but I believe both are present in the photograph. (Also, a little slice of Utah.)
---
Canon 350D EOS
Tamron 55-200 mm
Tiffin filters: UV, Circular Polarizer, & Tobacco
I have been carrying the latter filter for more than three years, and had never taken it out of the case … now, finding myself in the midst of miles and miles of autumn gold, it seemed like the perfect time to give 'er a try. I like the effect.
---