(2010.MAY.16)
Butte Valley, NV – USA
Special Feature
RedBubble EXPLORE
(2013.JAN.23)
People And Their Animals: Permanent Feature Gallery on
The Human Condition


Horse And Rider Challenge on Everything Equine
(2013.JAN.23)
Animals At Work On The Farm Challenge on Down On The Farm
(2011.JUN.06)
Horses Geared Up And Working Challenge on Just The Horse
(2010.DEC.28)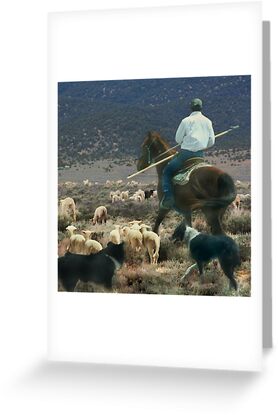 ---
Canon 350D EOS
Sigma 70-300 mm
---
Views (2013.FEB.12)
Views: (2013.JAN.27)
Views: (2013.JAN.23)
Views: (2011.AUG.19)
FAV's: ♥♥♥♥♥ ♥♥♥♥♥ ♥♥♥♥♥ ♥♥
Sales: 7
---
Composite image, incorporating five (or more) different photos; all taken on the same day (same camera and lens)
The base image is a large flock of sheep spread out over several miles of open range. Later, we encountered the herder and his dogs, along with some lambs on the road. The last detail was addition of the herder's camp and pick-up truck, slightly above center left (on the foothills).
This turned out to be a much more complicated process than I had originally intended. The many elements of the image were added in layers, then blended using smudging, burning, and other techniques.
All of the shots were taken "on-the-fly", so the foregrounds in all of them were blurred, and thus required extensive cloning, drawn from other areas of the base image, to create a sharper, more realistic picture.
Finally, a gradient filter of soft gold hues was applied.
I use JASC PaintShop Pro x7 for layering and some cloning; and Corel PhotoImpact x3 for sharpening, blending, and tonal adjustments.
Among the most challenging parts of the process, was in getting the proportion of dogs to horse-and-rider correct.
Base Image: The herd

Main Subject: The herder