Baker, NV
(2005.AUG)
Noelle's family was moving away the next day. The two girls' mothers wanted some photos of the best friends to remember each other by, so they brought them to my studio for a tea party.
Noelle was a shy, quiet girl; but her twinkling eyes spoke to me of great intelligence and a lovely sense of humor. I captured this pensive moment on the sly, while she waited for her friend, who was posing for the camera.
As usual, I liked the unposed portraits much better than the more formal ones.
CHALLENGE WINNER
Black-and-White Human Portrait Challenge on Amazing Challenge Entertainment
(2012.OCT.03)


▲ Look Somewhere Else Challenge on Absolute Clarity
(2013.AUG.21)
▲ Someone In A Hat Challenge on This, That, & The Other Thing
(2013.JUL.02)
▲ Black-And-White Portrait Challenge on International Women's Photography
(2012.MAR.30)
▲ Your Best Studio Shot i Challenge on Children – The Power Of Raw Emotion
(2009.DEC.11)
▲ Point-And-Shoot Only Challenge on Tone It Down
(2009.DEC.04)
▲ Hats Challenge on Good News Group
(2009.SEP.18)
---

---
SONY Cybershot DSC F828
Corel PhotoImpact x3
Natural lighting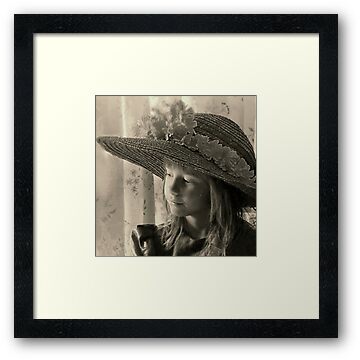 (2005.AUG)
---
Views: (2013.AUG.21)
RB Fav's: ♥♥♥♥♥ ♥♥♥♥♥
FB Likes: xxxxx xxxxx xxxxx xxxxx xxxxx xxxxx xxxxx xxx
Views: (2013.JUL.10)
Views: (2012.MAR.19)