On a crisp and sparkling clear February day, I set off with a friend to explore northern Nevada's vast volcanic desert. In this region of black lava rock and steaming hot springs, the harsh terrain appears primeval. It is easy to envision dinosaurs roaming here.
We found this little band of wild donkeys basking on a sun-warmed rocky outcrop. They were wary of us, but seemed unwilling to move from their warm spot on the hillside, and we were able to get a few shots without disturbing them too much.


The Letter 'A' Challenge on Put Out Or Get Out
(2010.APR.14)

"Early explorers brought both horses and burros to the New World. Some of these animals were released or escaped to the deserts of the southwestern United States and Mexico. With the discovery of more gold and silver in the 1800's, miners brought more burros with them. These animals added to the small early populations and began to breed and increase in numbers. At one time more than 10,000 wild burros were found in California, Arizona, and Nevada. Today there are about 7,000 burros in this region.
"Burros have only two natural predators. The mountain lion preys on all burros. The coyote usually preys on the young, very old, crippled or sick animals as nature's way of maintaining a healthy population.
"The Wild and Free-Roaming Horse and Burro Act passed in 1971, stated that the Bureau of Land Management should manage wild burros with other plants and animals in the environment.
SOLD!


(8×10 Laminated Print)
Thank you, Anonymous Buyer!!
(2011.JUN.08)


RedBubble (anonymous RB member)


(Art Fair: 8×10 print)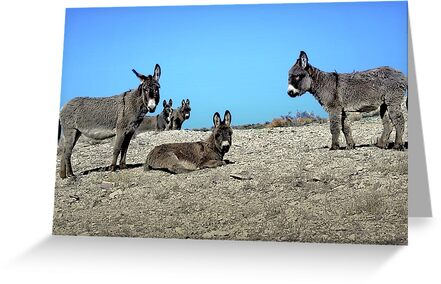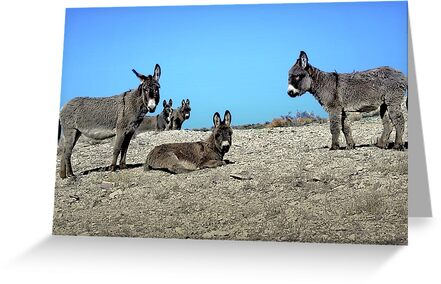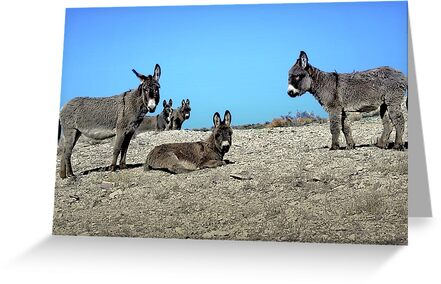 ---
Views: (2013.MAY.31)
RB Fav's:
FB Likes:
Views: (2013.MAY.08)
Views (2013.APR.10)
Views: (2011.AUG.04)