5 Favs
489 Views 2012-08-24
Run by the National Trust of Scotland since 1945
Late afternoon, captured on the side of the estate. The orange tree caught my eye and I had to include it in the composition.
Listed building in Listed Buildings in Kennethmont, Aberdeenshire, Scotland
http://www.britishlistedbuildings.co.uk/scotlan...
Historic Scotland: ref: http://hsewsf.sedsh.gov.uk/hslive/hsstart?P_HBN...
In my quest for my scottish roots, part of my plan when going to Scotland, was to take photos of the castles that belonged in one point in time to the Clan Hay. I visited 3 of the castles and Leith Hall is one of them. Read the story down below…
_Leith Hall is a manor house in Huntly, Aberdeenshire, Scotland. Built in 1650,on the site of the medieval Peill Castle, and run by the National Trust of Scotland since 1945, Leith Hall is set in a 286 acre estate with scenic gardens. The manor was the home of the Leith-Hay family for nearly four centuries.
Extensions were added to Leith Hall in 1738, 1810 and in 1904. In 1745, Andrew Hay of Rannes hid at Leith Hall after the Battle of Culloden where he fought for Bonnie Prince Charlie and eventually escaped to France.
During the First World War it became a temporary hospital and housed over 500 patients.
The house contains fine china, family portraits and tapestries and some interesting clocks. The hall is noted for its gardens, set in stages with each sheltered by a wall or hedge and each with its own special character. The gardens contain flowering trees and shrubs, roses, fruit, vegetables and ornamental grasses. A little stream winds its way through the gravel paths and stone crevices and at the top of the garden, near the 18th century curved stables, is the circular "Moon Gate" leading to the old turnpike road, once the main thoroughfare to Aberdeen. There are also two nature trails, each about one and a half to two miles long. The gardens also contain two ponds and a birdwatching site.
Leith Hall gardens
The hall is reportedly haunted, and has been subject to an investigation by Most Haunted. This ghost is believed to be Laird John Leith III who was killed on Christmas Day in 1763 in Aberdeen at Archie Campbell's Tavern in the Castlegate during a drunken brawl in which he was shot in the head, after he reacted angrily to a fellow diner who accused him of adulterating the grain sold from Leith Hall. The ghost of John is said to appear in great pain with a dirty white bandage over his head and covering his eyes, wearing dark green trousers and a shirt. In 1968, one guest awoke during the night to see John in highland dress, his head covered in bloody bandages, standing at the foot of the bed. Other apparitions have also been sighted. Several writers who've stayed at the manor have reported seeing paranormal phenomenon. Elizabeth Byrd wrote about her experiences in her book A Strange and Seeing Time and describes the time that she rented the East Wing of Leith Hall with her husband in 1986. Alanna Knight has also written about her ghostly encounters at Leith Hall.
The gardens and grounds are open to the public, but the house is closed_
ref: Wikipedia
Link to Calendar:
http://www.redbubble.com/people/photograph2u/art/6043590-5-atholl-palace-hotel-scotland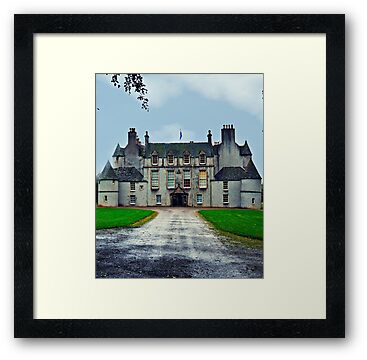 Location: Huntly, Aberdeenshire, Scotland
Date: 2010-09-20
Canon EOS 1D Mark IV
ISO: 320
Shutter: 1/160 sec.
Aperture: F/6,3
Metering Mode: Evaluative
Copyright: Yannik Hay
Lens: Canon EF 16-35mm f/2.8L II USM@32mm
Photoshop CS5 for Mac – Camera Raw 6.41