1 Win
3 top Ten
2 Features
5 Favs
1427 Views on 2013-03-11
Winner in DEUS EX MACHINA!… Machines, HEAVILY Industrial challenge in Monochrome in Color on 2012-09-19
http://www.redbubble.com/groups/monochrome/chal...
_______________________________________________
3rd Placement in Industrial challenge in JUST FUN on 2012-12-07
8th Placement in Industrial Revolution challenge in ShuTTerBuGs on 2013-03-08
10th Placement in OUR MONTHLY $20 VOUCHER AVATAR CHALLENGE FOR OCTOBER 2012 in An Artistic Toast to Hot & Cold Drinks on 2012-09-17
_______________________________________________________
Featured in Monochrome in Color on 2012-09-09
Featured in An Artistic Toast to Hot & Cold Drinks on 2012-07-03
We visited a few distilleries and Glenmorangie is one of them. One can not go to Scotland and not visit the distilleries nor follow the Whisky Trail! And the tasting as well :)
_Glenmorangie (the toponym is believed to derive from either Gaelic gleann mor na sith "vale of tranquillity" or gleann mór innse "vale of big meadows") is a distillery in Tain, Ross-shire, Scotland that produces single malt Scotch whisky. Glenmorangie is categorised as a Highland distillery and boasts the tallest stills in Scotland.
Legend tells that alcoholic beverages of one kind or another were produced in and around Tain since the Middle Ages.
The Sixteen Men of Tain, to whom the bottle refers, are also widely believed to be the source and origin of the popular "Highlander" film and television series, due to popular Scottish legend that the Sixteen Men of Tain took part in an epic battle that left only one man of Tain standing. This, of course, happened after they perfected the distillation process.
It is said that the production of alcohol started at Morangie Farm in 1738, when a brewery was built that shared the farm's water source, the Tarlogie Spring. A former distillery manager, William Matheson, acquired the farm in 1843 and converted the Morangie brewery to a distillery, equipped with two second hand gin stills._ ref: Wikipedia.
Link to Calendar:
http://www.redbubble.com/people/photograph2u/art/6043590-5-atholl-palace-hotel-scotland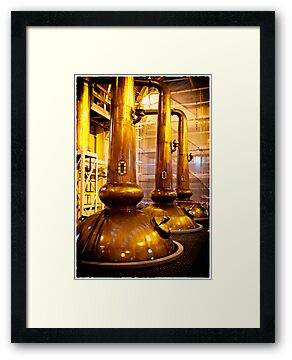 _Deacon Brodie's Tavern occupies a prime location on the corner between Lawnmarket, part of the Royal Mile, and Bank Street, one of the main thoroughfares up from Princes Street. It is named after Deacon William Brodie, the man who inspired Robert Louis Stevenson's novel The Strange Case of Dr Jekyll and Mr Hyde.
Deacon Brodie (1741-88) was a respected cabinet-maker and a member of the Town Council, and Deacon (head) of the Incorporation of Wrights and Masons. But Brodie lived a double life, developing an expensive lifestyle including mistresses and gambling that he could only support through a secret life of crime.
As a respected craftsman, part of Brodie's day job involved manufacturing and repairing locks. It became his practice to take copies of all the keys involved so that he could return some time later with accomplices as part of his night job.
Brodie's downfall followed an armed raid on His Majesty's Excise Office on Edinburgh's Canongate. One of the gang was caught red handed and although Brodie escaped to the Netherlands he was arrested in Amsterdam and returned to Scotland for trial. Brodie was found guilty after a search of his home revealed his stock of duplicate keys and he was sentenced to hang at Edinburgh's Tolbooth on 1 October 1788. Brodie bribed the hangman to ignore a steel collar Brodie was wearing, designed to keep him alive for long enough to be revived after the hanging. It failed, however, and both of Brodie's double lives were over. _
ref: http://www.undiscoveredscotland.co.uk/edinburgh...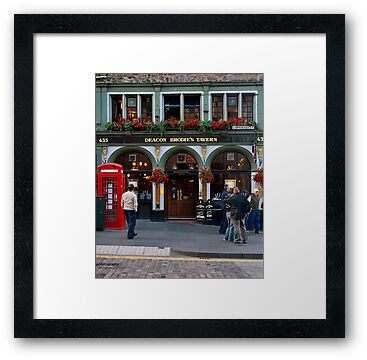 Location: Tain, Ross-shire, Scotland
Date: 2010-09-23
Canon EOS 1D Mark IV
ISO: 500
Shutter: 1/25 sec.
Aperture: F/2,8
Metering Mode: Partial
Copyright: Yannik Hay
Lens: Canon EF 16-35mm f/2.8L II USM@32mm
Photoshop CS5 for Mac – Camera Raw 6.2