1 Top Ten
4 Favs
508 Views 2012-06-11
9th Placement in Architecture Indoors Captured with a Canon EOS challenge in A World of EOS on 2012-06-11
_____________________________________________________
Historical Travel Guide: The Best Churches in Paris: http://www.associatedcontent.com/article/339785...
The Church of Saint-Séverin (French: Église Saint-Séverin) is a Roman Catholic church in the Latin Quarter of Paris, located on the lively tourist street Rue Saint-Séverin. It is one of the oldest churches that remains standing on the Left Bank, and it continues in use as a place of worship.
The church is dedicated to Séverin, who is said to have been a hermit who lived there and prayed in a small rudimentary oratory. After Séverin's death, a basilica was constructed on the spot. This was destroyed by the Vikings, and the current church building was started in the 11th century, though its major features are late Gothic and date from the 15th century. Its external features include some fine gargoyles. Its bells include the oldest one remaining in Paris, cast in 1412; their ringing is recalled in a well known poem in praise of Paris by Alan Seeger.
Internal features of the church include both ancient stained glass and a set of seven modern windows by Jean René Bazaine, inspired by the seven sacraments of the Catholic church, around the ambulatory. The deambulatory also includes an unusual pillar in the form of the trunks of a palm tree, that brings to mind the Apprentice Pillar at Rosslyn Chapel. The construction of the marble choir was made possible by donations from Anne, Duchess of Montpensier, a cousin of Louis XIV. The organ is signed Jean Ferrand.
Until 1790 Saint-Severin was the seat of the southern archdeaconry of the pre-revolutionary diocese of Paris. In the late nineteenth century the writer Joris-Karl Huysmans frequented and popularised the church. In the years leading up to the Second Vatican Council Saint-Severin was known for the style of its worship arising from the Liturgical Movement. ref: Wikipedia.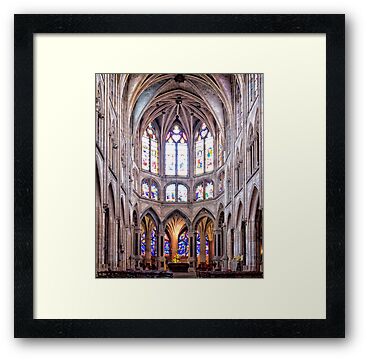 Location: Rue des Pretres-St-Severin, Quartier Latin, Paris, France
Date: 2010-09-29
Canon EOS 1D Mark IV
ISO: 640
Shutter: 0.4 sec.
Aperture Priority: F/6.3
Metering Mode: Evaluative
Copyright: Yannik Hay
Lens: Canon EF 16-35mm f/2.8L II USM@26mm
Photoshop CS5 for Mac – Camera Raw 6.2