3 Features
11 Favs
503 Views as 2012-06-29
Featured in Express Yourself on the 2010-07-20.
Featured in Around the World group on the 2010-07-18.
Featured in SPECIAL EDITION: 7-17-10….ON THE WALL ART, High Quality Images group on the 2010-07-17.
Pink Lake, Gatineau Park, Quebec, Canada.
A peek view on the reflections of the sky on the water, a bit of fog at the reer end of the lake at sunrise.
Pink Lake, because of its unique characteristics, is a treasure of Gatineau Park.
In spite of its name, this lake is not pink. It inherited its name from a family who settled in the region in 1826. The Pinks, who were from Ireland, cleared their lot and grew potatoes, corn and wheat. Part of the property still belongs to their descendants, though most is now part of Gatineau Park. The Pink family has given its name not only to a lake but also to a road and a cemetery.
In most lakes, the water mixes completely each year during the spring and fall, under the influence of water density, water and air temperature, and the wind; nutrients and oxygen are distributed evenly.
However, because of it's sheltered position (surrounded by steep cliffs that protect it from the wind) and its shape (small surface area, average depth and bowl-like shape), the lake's waters do not mix. This is why it is called "meromictic." Of particular note is the fact that the deepest seven metres of the lake remain without oxygen.
ref: NCC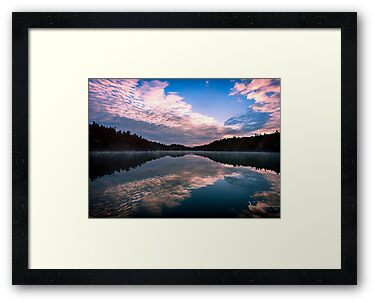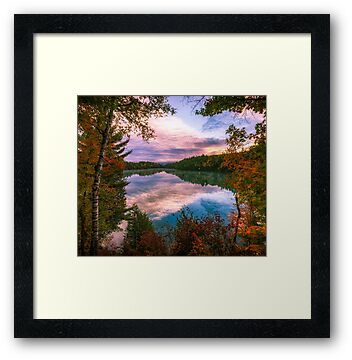 Location: Gatineau, Quebec, Canada
Date: 2010-07-16
Canon EOS 1D Mark IV
ISO: 400
Shutter Speed priority: 1/320 sec.
Aperture priority: F/5.6
Lens: Canon EF16-35mm f/2.8L II USM@16mm
Copyright: Yannik Hay
Photoshop CS5 for Mac – Camera Raw 6.2