*Genesis 9:12-14 (New King James Version)
12. And God said: "This is the sign of the covenant which I make between Me and you, and every living creature that is with you, for perpetual generations: 13. I set My rainbow in the cloud, and it shall be for the sign of the covenant between Me and the earth. 14. It shall be, when I bring a cloud over the earth,that the rainbow shall be seen in the cloud;
God's Promise to Noah, after The Great Flood !!*
*This truly was one of those "Magic of the Moment" times from God, a Divine Appointment, being in the right place at the right time, with no added special effects, all natural light !!!!
Captured at Thompsons Creek on an historic private property named Charlemont near Geelong, Australia.*
Pentax istDS Camera
Winner of The 2008 Gaia Competition and published in their book
*The Covenant
Author: martin steinbrugger
Having once beheld His glory shinning down from above…
My drought stricken life is now as a reservoir,
Constantly being renewed with God's love.
There's only a remnant here and there of my barren past…
For behold God's promise to heal and renew,
Is most certainly coming too pass.
Water of life overflowing my soul…
Bringing forth the blessing and joy of knowing,
It is not I, but God who is in control.
Covenant blessing under His bow shall I kneel…
For it is by His stripes and His stripes alone,
That my wounded soul has been healed.
Inspired by Phil Thomson's photo "The Covenant"*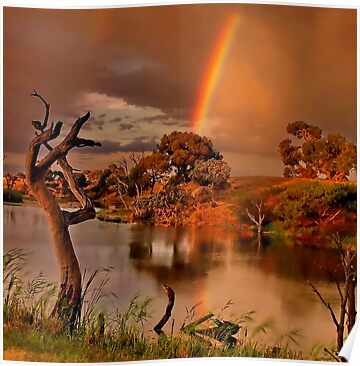 Also available is a calendar of images from Charlemont, including this one
5000+ views.
Sold: 1x Framed Print. 2x Mounted prints. 4x Cards.All sales through RB – buyers were a variety of people, both named and mystery !!