A view of the amazing interior of Salisbury cathedral which was built in a mere 38 years reflected in the font which is new…
Nikon D 300
nikon 16-85mm VR lens
ISO 800
1/5th sec
f 5
handheld I must have been lucky and snapped between heartbeats
BEST VIEWED LARGE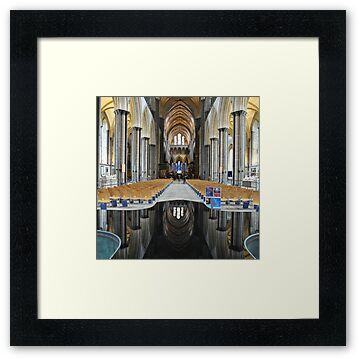 and from Wikipedia:
Salisbury Cathedral is an Anglican cathedral in Salisbury, England, considered one of the leading examples of Early English architecture. The cathedral has the tallest church spire in the United Kingdom (123m/404 ft). Visitors can take the "Tower Tour" where the interior of the hollow spire, with its ancient wood scaffolding, can be viewed. The cathedral also has the largest cloister and the largest cathedral close in Britain (80 acres).
The Cathedral contains the world's oldest working clock (from AD 1386) and has one of the four surviving original copies of the Magna Carta (all four original copies are in England).Although commonly known as Salisbury Cathedral, the official name is the Cathedral of Saint Mary. In 2008, the cathedral celebrated the 750th anniversary of its consecration in 1258.
This photograph was featured in the 'International Point of Interest' Group and voted in the top ten in the 'International Interiors' group comp. Featured in Artists of Redbubble, Tunnel Vision and Christian Churcges Statues and Crosses.