Photographic Fakery and Mystery in the Blue Mountains
Ironic isn't it? The more advanced we become in restoring and digitising our photographic history, the more we realise how entrenched fakery was a hundred years before Photoshop. Here I'm talking about unacknowledged fakery, when a film negative is modified or combined with another to produce an artificial photograph intended to be viewed as the real thing.
I have a story to tell, and it involves both fakery and mystery. It'll be a bit over the shop, so let's jump in with this: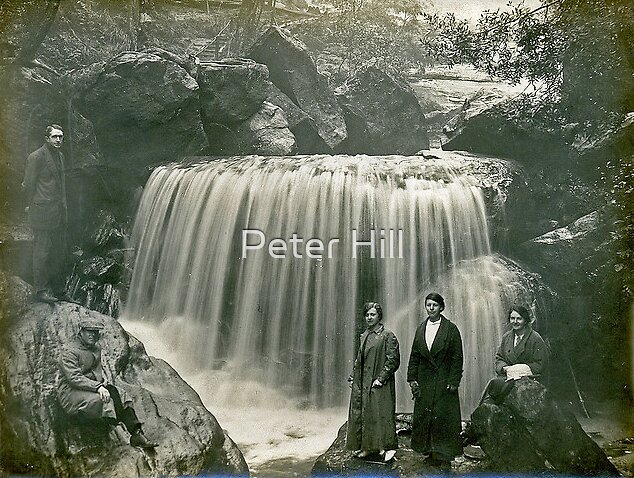 "Weeping Rock" by Sam Hood, circa 1900
I sourced this photograph from the Blue Mountains Library – Local Studies pages at Flickr. The image is a fake. As the library itself acknowledges "Those who have visited the location will realise that the figures are out of scale and the photo has been manipulated, in order to make the rock look larger and more imposing." Not wrong! I have been to this spot many times, and even proposed marriage there (she said yes). These falls are no more than 1.5m in height, if that, making the people in the photograph about 15-25 cm in height. Definitely the image is a composite of 2 separate photographs taken from the same spot at the same time, but with much different focal lengths, and I also strongly suspect that because of the scale of the midgets compared to the rocks, the image is a composite of an additional photograph, being the posed shot. How can I be sure? Check out the scale from a shot I took on my 'Engagement Shoot':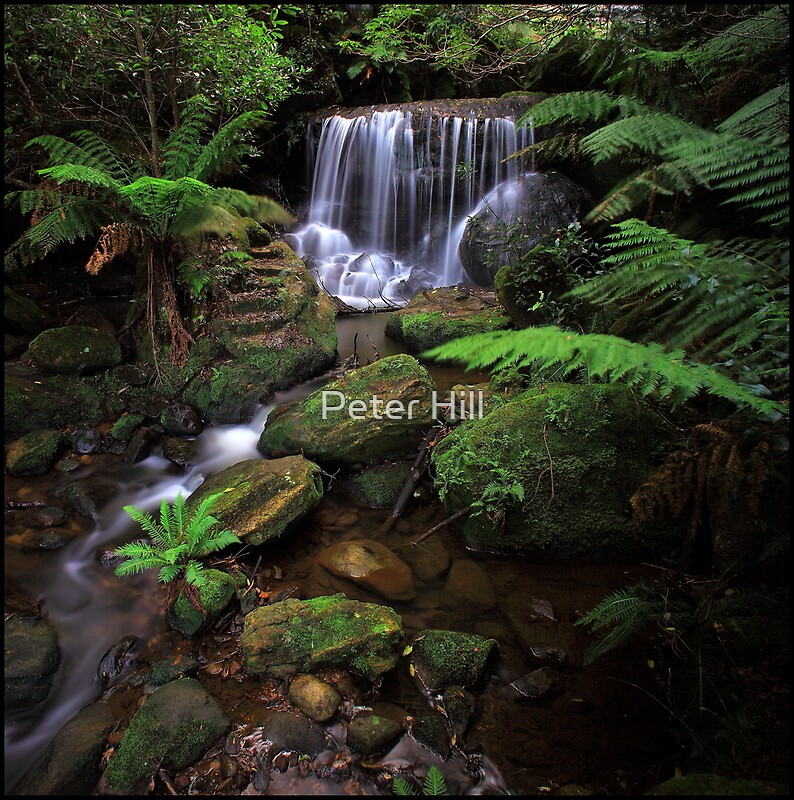 Call me naively delusional, but I previously thought placing people in Victorian-era landscape photographs was to add scale. It didn't occur to me the reason was instead to distort scale. Was I wrong? Am I now to view the faking practice instead as a means of making the photograph more sellable? (Perish the thought, but more on that later.) Apart from being bewildered as to how these "models" could nonchalantly yet actually stand where they supposedly are given the shoes they are wearing (Blue Mountains river rocks are treacherous and literally as slippery as ice), my immediate problem, however, is that my eye is now attuned to such faked scale. Here's another early image of Weeping Rock which immediately looked wrong when I first saw it: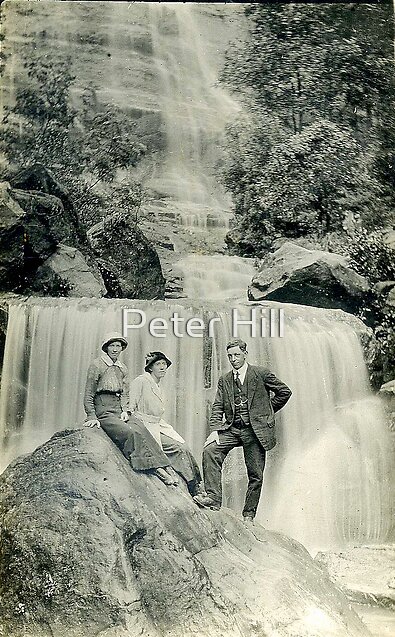 "Weeping Rock, Leura Falls 1917", photographer unknown, Blue Mountains Library – Local Studies
Again, for any viewer with experience at being there, the scale in the shot is all wrong, so very wrong. That's the kicker – unless you've been at a particular location, it's not obvious the photograph is fudged. Then there's this one, ostensibly shot at another Blue Mountains' waterfall around the same time: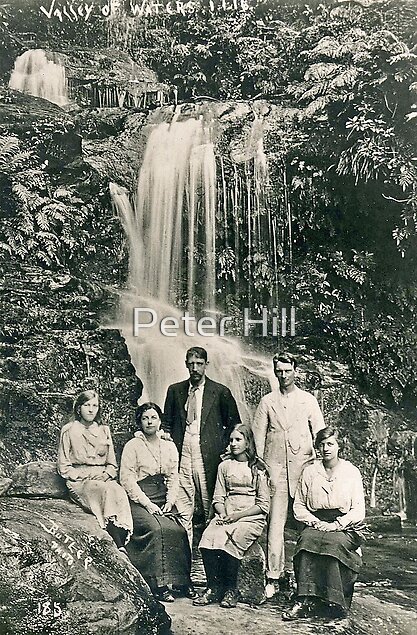 Edith Falls, Valley of the Waters, New Year's Day 1916, by "Butler", Blue Mountains Library – Local Studies
Not only can I guarantee this sextuplet of midgets was actually quite taller, a close look at their placement gives the distinct impression they were posing in a studio elsewhere, perhaps in one of several in Katoomba operating at the time. Apart from the edges of their respective personas being quite distinct, nobody poses like that at that spot! This fudged photograph also solved a mystery for me – though not how I expected.
I've always known these falls, which are situated directly below Sylvia Falls, as Lodore Falls not Edith Falls, as attributed in the photograph. Every reference to the falls in every map I've seen and track notes I've read name them as Lodore Falls.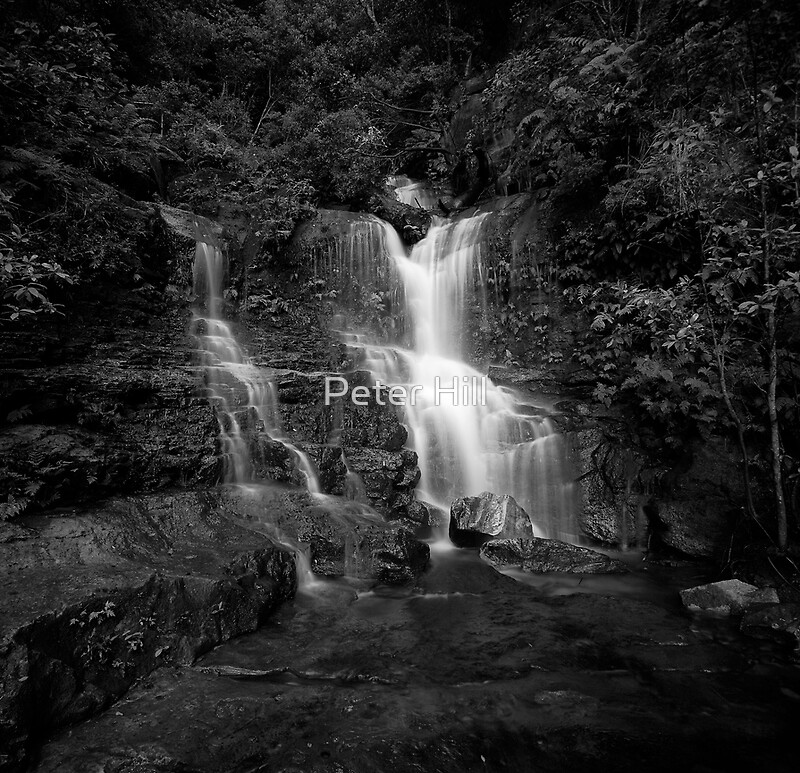 Canon EOS 5D Mark II, Canon TS-E 24mm F3.5L TIlt+Shift lens with Hoya ND x400 filter, ISO 100, f7.1, 13 seconds
The thing is, right behind me is a massive near-vertical cascade of about 30 metres, and although there are Flat Rock Falls, Red Rock Falls, and Britannia Falls immediately below it I've never found its name. Turns out the big drop is actually Lodore Falls, and the much-smaller falls is correctly termed Edith Falls, as explained by The Blue Mountains Library in response to a query on the name here, their reference being the Blue Mountains Geographic Dictionary by Brian Fox, at page 102. Since I've got a thing about names of Blue Mountains waterfalls, I need to get this book!
Another mystery these old fudged photographs solved for me was indeed another name: Weeping Rock. Over a year ago, I published a Journal which I introduced by recounting my query over this name. To be brief, I questioned the naming of it as "Lurline Falls". As you can see from the first two photographs above, the drop in question was named "Weeping Rock". When I first learnt of that name, I must admit I was skeptical because there is another, better known and better accessible, waterfall with the same name, just above Queens Cascade and the mighty Wentworth Falls a few valleys east. Then I found this photograph which puts the matter beyond doubt: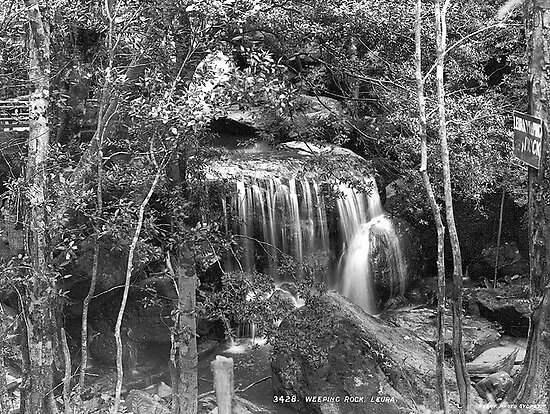 Weeping Rock, Leura, by Charles Kerry, circa 1900, Blue Mountains Library – Local Studies
Notice the sign on the tree on the right? It reads: LEURA WEEPING ROCK. That to me means the name Weeping Rock was generic, so that this waterfall was named Leura Weeping Rock to distinguish it from other Weeping Rock. It almost goes without saying that the sign is long gone. Indeed, there are no signs whatsoever at this location – a common problem experienced when trying to find a particular waterfall in the Blue Mountains! Good thing I've never tried looking for Wishing Rock, which is how the falls are named by no less than the National Library of Australia in respect of this image: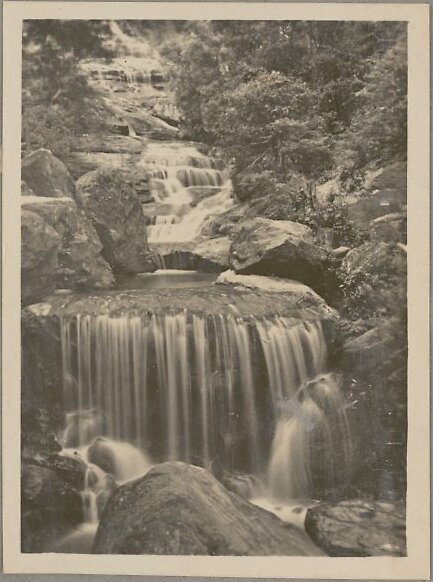 Wishing Rock, Leura, NSW, 1926 NLA (Part of Unnumbered Page 16 of "J. Crawford's photographic album of holiday destinations, New South Wales, 1926")
Ooops. (I also have an issue with the date of 1926 attributed to the above image, and I'll reveal the clue soon.) And what of Lurline Falls? They do exist, or at least did exist. In my previous Journal I referenced a glass plate held by the Powerhouse Museum with the title "85/1284-202 Glass negative, full plate, 'Lurline Falls, Katoomba', Kerry and Co, Sydney, Australia, c. 1884-1917". At that time, the plate had not been digitised. Now it has, and here it is: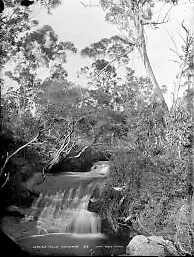 I can't place those falls, but given they are named after a street in Katoomba, they may no longer exist. Does anyone have any information?
And now for some more mysteries. If you look at this image, you'll see some steps carved into the foreground rock:

Weeping Rock, Leura, circa 1910, photographer unknown, Blue Mountains Library – Local Studies
As you can see from my contemporary shot (above), those steps are still there. Apart from wanting know when they were carved into the rock, I originally thought they led to a viewing platform or bridge spanning the rock on the left with the right bank. But now I've found a photograph which appears to show a bridge had been constructed with no relationship to the steps: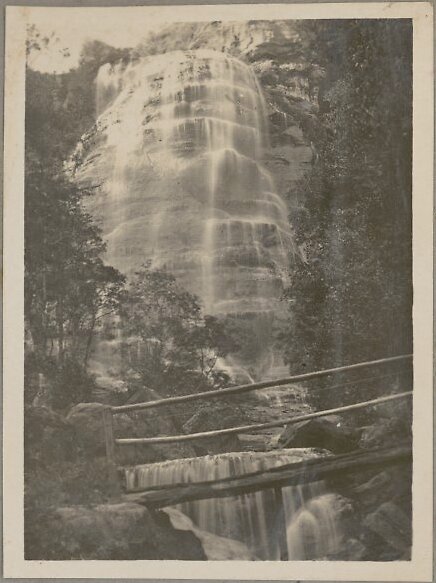 The Bridal Veil Falls, Blue Mountains, New South Wales, 1926. NLA (Part of Unnumbered Page 18 of J. Crawford's photographic album of holiday destinations, New South Wales, 1926)
Are there steps there? If there were, they would have curved around and under that bridge, which doesn't make sense. But at least I've confirmed there was a bridge there. But it wouldn't have lasted long before being completely destroyed and washed downstream by a flood. The mystery remains, when were the steps carved? So far I have shown you a photograph of circa 1990 with no steps, one taken in 1917 with no steps (getting warmer), another of circa 1900 with no steps, one taken in 1926 with no steps (warmer still), and another taken circa 1910 with steps. Um, what? And worse, the 2 shots from 1926, indeed from the same collection, show the same spot, but one shot has the bridge and the other clearly doesn't. Something's not right!
Putting aside the 2 shots from "1926", the shot from "circa 1910" is clearly misdated. For example, the shot taken in 1917 is not attributed as circa 1917. As well, there is more photographic evidence: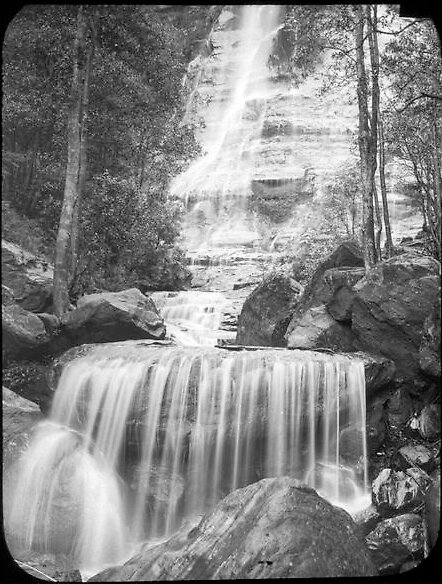 Bridal Veil Falls, Blue Mountains, New South Wales:inland people and general scenes, (Transparency) by John Flynn (1880-1951) circa 1912 NLA (Part of Australian Inland Mission Collection (huh?))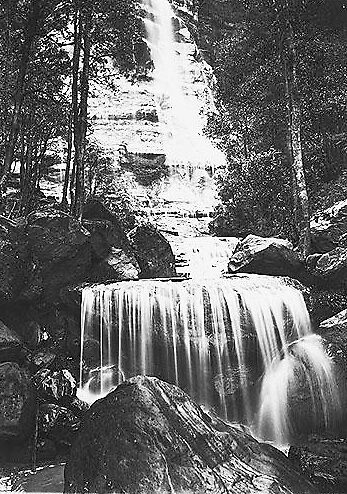 Weeping Rock, Blue Mountains, New South Wales, photographer unknown,
[between 1920 and 1925?], NLA (Part of Scenes in Victoria, New South Wales, Queensland, Western Australia and Tasmania in the early 1920s)
Then there's this photograph, attributed with the specific date of 12 April 1935: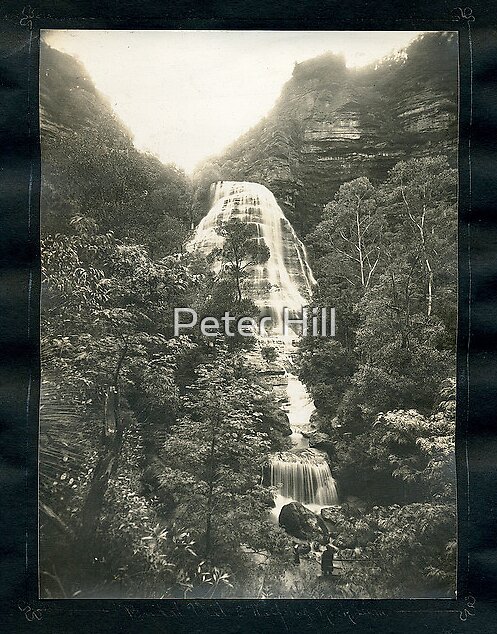 Bridal Veil and Weeping Rock, Leura, by Harry Phillips, 12 April 1935, Blue Mountains Library
Try as I might, I just can't see any steps there on that damn rock! There is a bridge there, indeed with a person standing on it (For scale! Hurrah!), but that is a different, and better made, bridge. That bridge is gone too, with only one of the thick wooden strut beams spanning the creek remaining, still firmly set in the stone and concrete foundation, which I was leaning against to take the shot I've shown above of mine. (And if you're interested, take the track it leads to and you'll soon find a long-forgotten gorge, but that's another story for another day.)
Let's leave that particular mystery and try another: the name of Bridal Veil Falls. This is a confusing name. There is another drop with the same name in the Blue Mountains, but that one is misnamed and is actually Govett's Leap Falls. It got it's more common moniker in 1885 when a journalist at a Sydney newspaper proclaimed the falls looked like bride's veil. The real Bridal Veil Falls, as we now know them, flow from Leura Cascades. But they weren't always known as Bridal Veil Falls. They used to be called Leura Falls. For example, regulars to Leura Cascades will recognise the scene of this early photograph: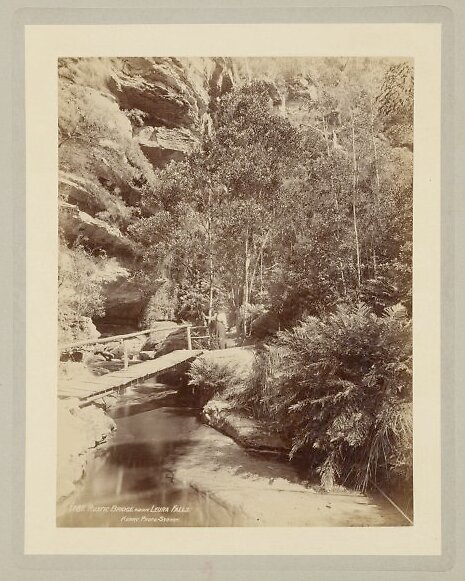 Rustic bridge above Leura Falls, Blue Mountains, New South Wales, ca. 1895, NLA (Page of Views of New South Wales, ca. 1893-1897)
(There is a bridge still there, but it's no longer rustic, and the vegetation is decidedly more pronounced!) But the name, Leura Falls. Where then, did the name Bridal Veil Falls come from? At some time, someone realised that these falls, when in full flow, DID look like a bride's veil, unlike Govett's Leap Falls. Below, Bridal Veil is another huge drop, and I've always considered them a separate waterfall. You can only reach them via a long-forgotten and unmarked track in the next valley. This is one shot I've taken of them: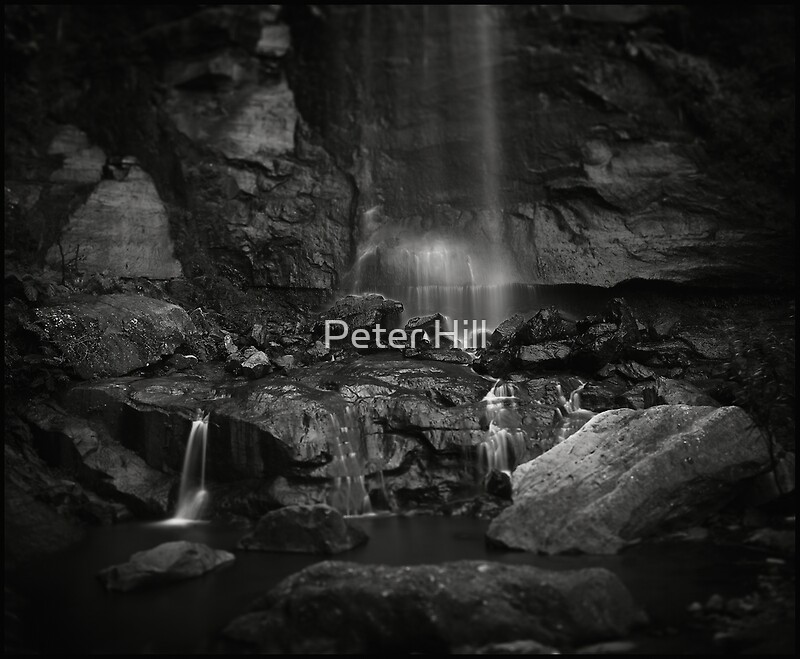 The answer, to some degree, is provided by this photograph: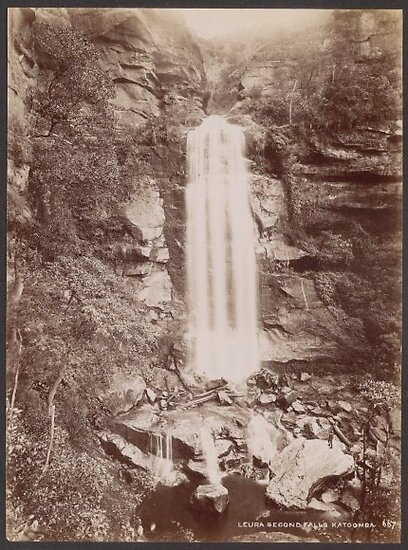 Leura Second Falls, Katoomba, New South Wales, circa 1880, NLA
Now I understand. Originally, what we know now as 2 separate waterfalls, Bridal Veil Falls and the (now) more difficult to get to Leura Falls, were considered the one waterfall, but with 2 sections. This is understandable, given there are 2 sections to Wentworth Falls and 2 sections to Katoomba Falls (and likewise, the bottom sections respectively are alos hard to get to!). So, sometime between 1880 and ???, "Leura First Falls" (?) became known as Bridal Veil Falls. But when? Here's evidence the name change occurred in or before 1910: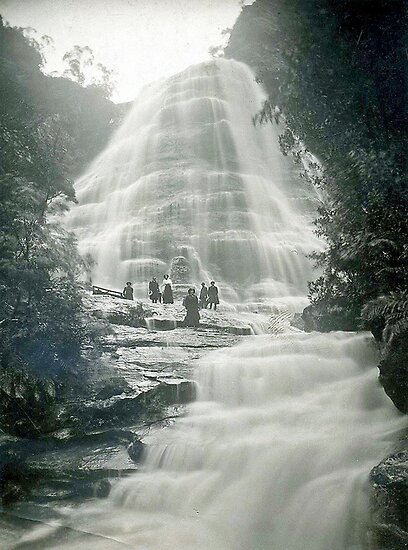 Bridal Veil Falls, Leura, by Harry Phillips, circa 1910
Blue Mountains Library
Oh yes, note the midgets in that shot. More fakery. See those 2 on the right? That's actually the very spot where I proposed marriage to Tanya. I can guarantee that if there had been that much water flowing down Bridal Veil on the day, there was absolutely no way possible we would have been standing there. Ironically, this very image inspired a huge mural on the side of a building in Katoomba's main street. Too bad it's fake!
I'll now end this historical whimsy with a humdinger of a fake Blue Mountains photograph. Many will know of Frank Hurley (1885-1962), one of Australia's most famous photographers. He was a photographer with Douglas Mawson in the Antarctic, and again with Shackleton, and a photographer with the ANZACs in World War One. Several of his images, such as the one of wounded soldiers at Ypres in 1917, and the shot of HMS Endurance stuck in the Antarctic pack ice in 1915 are iconic. But he also had a reputation for "embellishing or manipulating an image to achieve a particular effect or to heighten its drama. Hurley was well-known for his construction of composite images, and for the addition of a dramatic sky to enhance the mood of a picture." [John Thompson, Hurley's Australia – Myth, Dream, Reality, National Library of Australia, Canberra, 1999, at page 5]. Hurley began creating composite images, for example, during WWI, and that had aroused controversy and criticism, not least because of the accuracy expected of war photographers who were meant to be taking photographs as a matter of historical record. "Hurley's defence was an artistic one: if the finished result gave the viewer abetter understanding of the scene, or if it enhanced the realism or beauty of the photograph, then such manipulation was appropriate." [John Thompson, idid.] Apparently when discussing some of his later well-known photographs taken in the Blue Mountains, he freely admitted to adding 'a Palestine sky'." [John Thompson, ibid.]
In today's Photoshop world, such fakery is par for the course. But …. we do retain a sense of outrage whenever a photograph purporting to be real turns out to be photoshopped or otherwise faked. We don't like being fooled or being taken for suckers, and that will probably never change. So, I for one have an issue with photographs purporting to be one thing when they are something else, especially when there is a commercial incentive involved.
Which brings me to a book I have just acquired, inspired by why I was by the good photography of Frank Hurley – "The Blue Mountains and Jenolan Caves – A Camera Study by Frank Hurley", Angus and Robertson, Sydney, 1952. It is one of a series of Camera Studies which, combined, sold over 160,000 copies. Yes, there are the fake skies and fake sunbeams, and, unfortunately, some atrociously concocted composites masquerading as actual photographs. Such a pity, if not a sin. And what has he done to Sylvia Falls! OMG. These falls are perhaps THE most photogenic falls in the Blue Mountains. They do not need to be manipulated to "heighten their drama", but alas, this is what he did to them: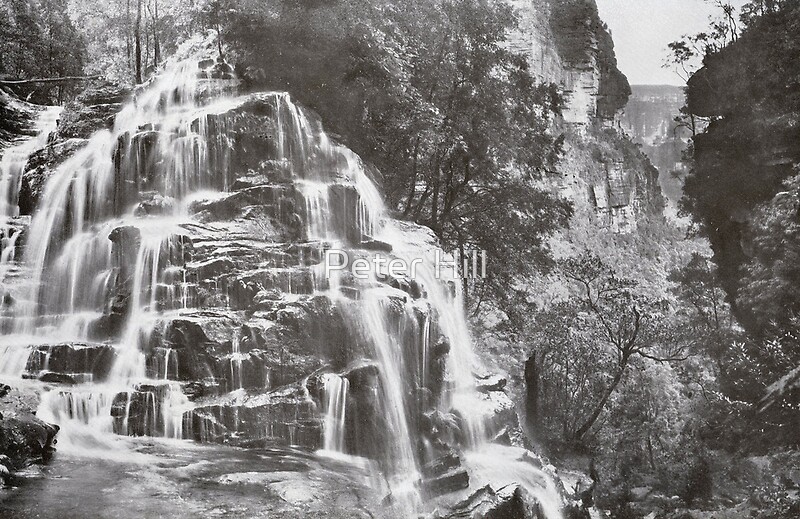 "The Blue Mountains and Jenolan Caves – A Camera Study by Frank Hurley", Angus and Robertson, Sydney, 1952, page 71.
The caption for the photograph is: The Sylvia Falls at Wentworth Falls. A glorious cascade that tumbles down amid a wealth of ferns and jungle.
The caption for the photograph should have been: OK, I'm not really sure why I did this to Sylvia Falls, but I have taken a photograph whilst standing IN FRONT of the falls. This one to be precise ….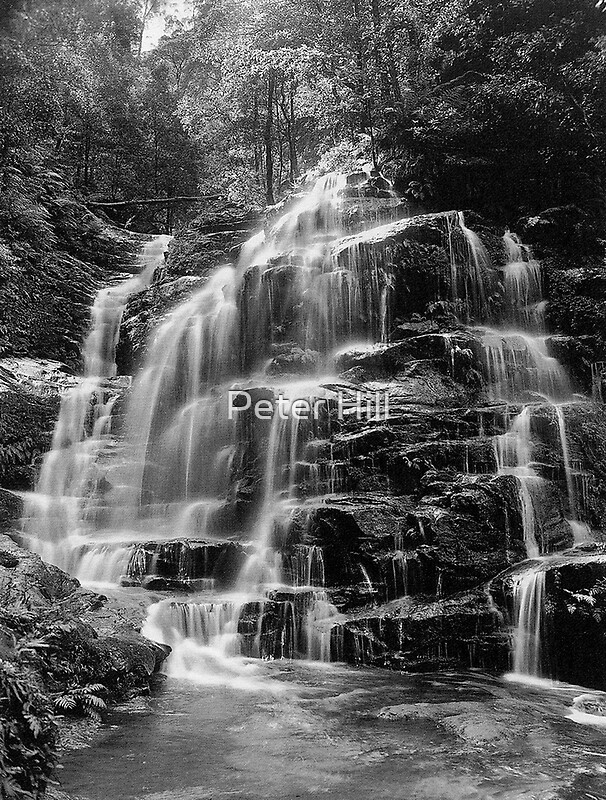 Wentworth Falls [sic], Blue Mountains, New South Wales, John Thompson, Hurley's Australia – Myth, Dream, Reality, National Library of Australia, Canberra, 1999, at page 13.
…then I've stuck it onto another image I shot from THE SIDE of the falls halfway up the path looking down into the Valley of the Waters. I admit, you can even see where the 2 photographs are stuck together at the bottom of the frame. And now, with the benefit of hindsight, I can see that the creek here does not actually take a U-turn.
Such a shame. Such a mystery.