Journey to the Waterfall Capital of Australia - Part 3
This is the final instalment of our journey to the waterfall capital of Australia. If you missed them, read Part 1 and Part 2 first!
Day Five
Our fifth day was special. Matt, our genial host at Ridgetop Hideaway, had invited us on a day trip in his 4WD to see and shoot one of the highest waterfalls in Australia – Merango Falls – and this morning was it. We headed off not long after sunrise. This was a real treat, and not just because of Matt's hospitality. The thing is, getting to these falls means knowing your way around the area, having a 4WD, and, importantly, knowing the owners of the land you have to drive on to get there. I can honestly say I have no idea where these falls are, and even having a map would not help me find them again.
Matt had warned us the falls were a challenge to shoot and he was right. We were literally on the edge of an escarpment (polite term for a cliff) and there were blackened trees everywhere. But standing next to the top of Merango Falls was breathtaking. They drop about 75 to 100 metres into a large pool created by a humungous basalt column that had separated from the cliff, then turn right and drop down another 100 metres or so down a chute into the valley below. Matt was happy because he had not seen as much water in the river before, and for the first time he spotted another waterfall dropping down the escarpment a few hundred metres along the valley. This is a shot of the lower section of Merango Falls. You can get an idea of scale from the fully-grown trees you can see to the right of the water near the top.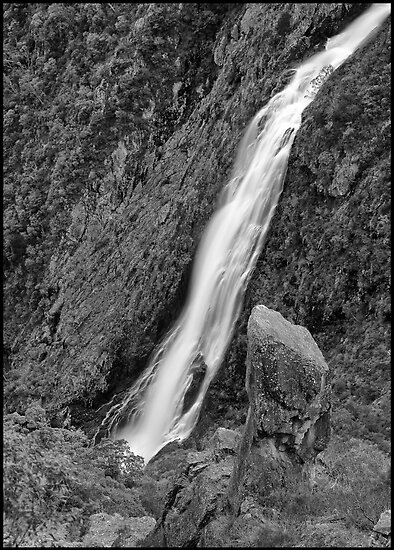 Getting a clear shot of the upper section was almost impossible. I got one, but it needs to be seen very large to figure out the geology. It's not often you are looking side onto falls which drop behind a cliff.
On the drive back to our Hideaway, Matt pointed out many waterfalls and waterfall sites. It was enough for me to remember where to mark them on our topo map on our return. After lunch, I went exploring some of them on my own, as Tanya had to log onto work.
Before I even got to the first site, the road was blocked as a monster tow truck attempted to upright a smashed truck trailer, after an accident earlier that day. The attempt failed, and before the next one they let the traffic through.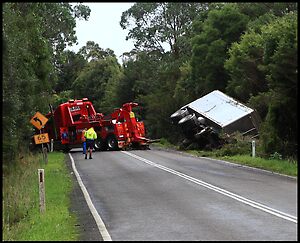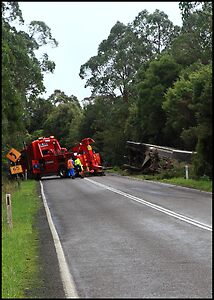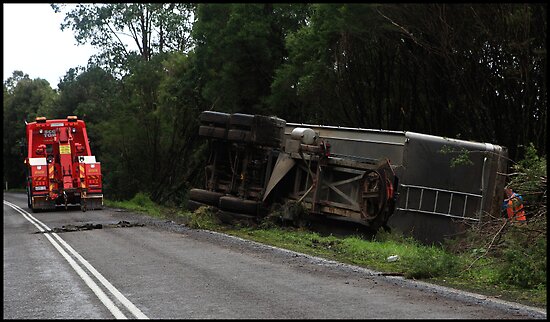 My spot of photojournalism over, I found the first site. It was promising but the light was all wrong.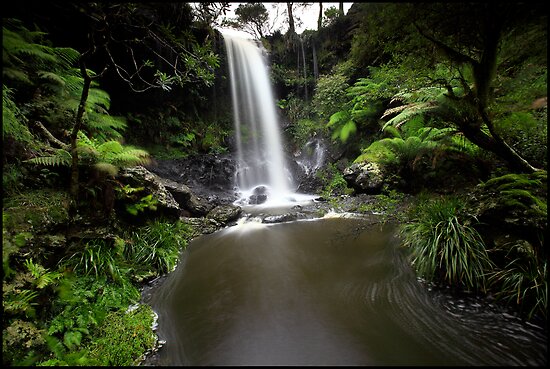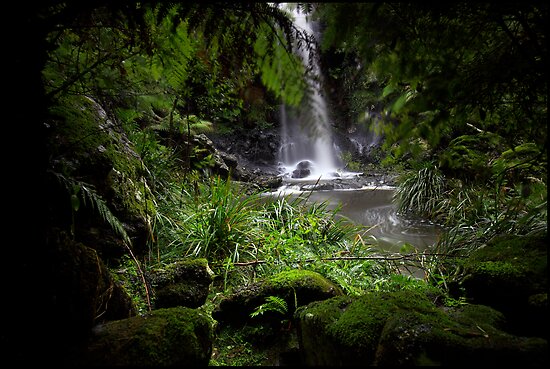 The results were enough however to convince Tanya that I needed to take her there in the morning. Red Cedar Falls in Dorrigo National Park could wait for the next trip.
Day Six
First thing next morning we were there, and it proved a good decision: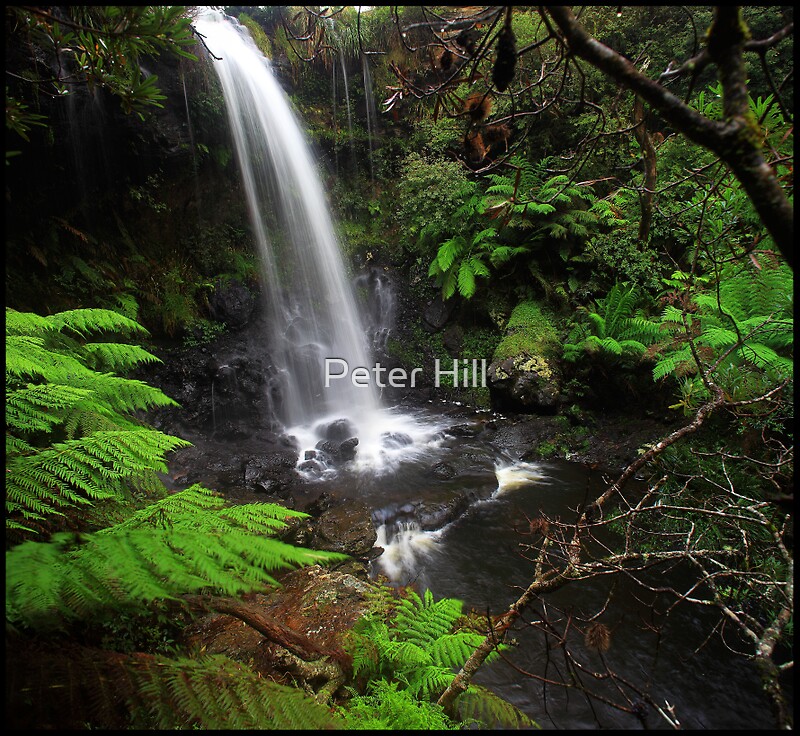 These falls are easily accessible from Waterfall Way. In fact you drive over the creek just above them, probably at 100 kph. They are unnamed, as is the creek. I can give directions if anyone wants them.
The thing with shooting waterfalls in Dorrigo is that most of them are on private property. So you need to ask permission to jump fences and tramp through paddocks, although technically if you keep to the creeks you don't. Practically, the best knowledge is held by the locals, so ask. Matt tells us permission is not a problem in the region. Indeed, when Tanya and I were surveying the next site pinpointed by Matt, the owner stopped by in her car and actually encouraged us to head into her property to shoot it. This was a 12m waterfall, but it was surrounded by privet, so a no go. We were however welcome to come back and spend a day along her creek, as there were "more falls, just hard to get to."
That afternoon saw us exploring more, before we visited the actual town of Dorrigo for the first time. Tanya went to a cafe for coffee and to log on, I went back to the National Park for another sortie, before returning to town and doing some shooting with the infrared camera, my trusty rusty converted EOS 10D, whilst Tanya was chairing an audioconference.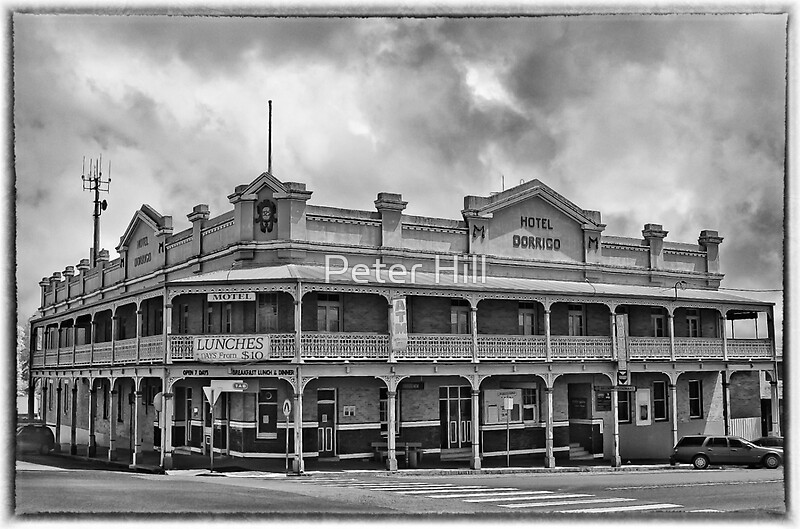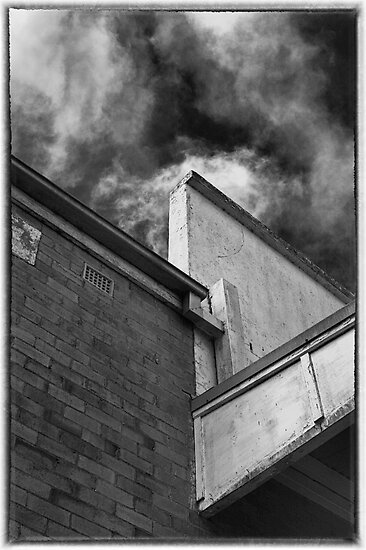 Then it was back to our Hideaway for the final night. That afternoon the light was fantastic for IR, and Matt's rock work the layout of the property was too hard to resist:
Next morning we were up at dawn again. Tanya spotted the fog in the valley from her pillow and I have never seen her get into shooting action so quickly before! However, the best shot, obviously, didn't happen until I sauntered out and had a goodbye chat to DILLIGAF.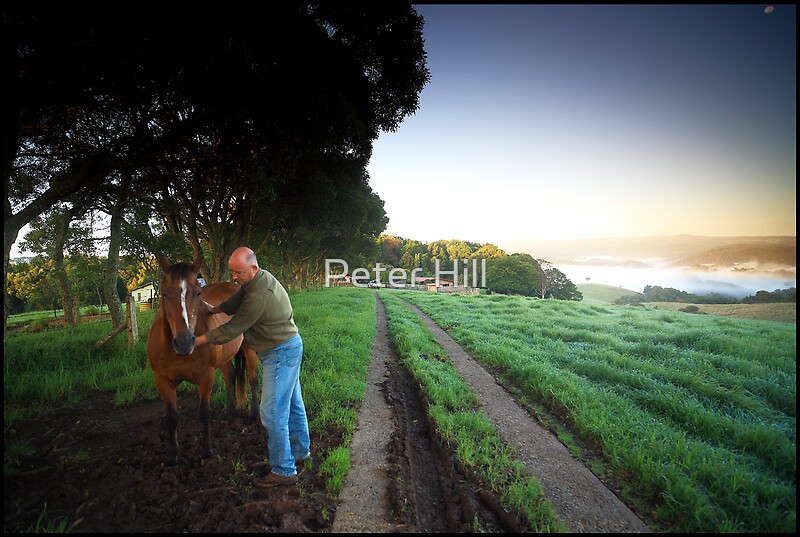 Published with the permission of the copyright owner, Tatiana Rudikova
This trip was a revelation and we are definitely going back, later this year. Hopefully, we'll get to stay at Matt and Dina's again. For a fraction of the cost of similar places in the Blue Mountains, why wouldn't we? And yes, that is a recommendation. Hope you've enjoyed the small taste of Dorrigo I've provided. We did lots more and yet, as Matt told me, we hardly scratched the surface.
Cheers