Sets of Two - Photography a Century Apart
Recently I uploaded a photograph I took of a small waterfall below Leura in the Blue Mountains from atop a boulder which had carved steps in it. I had surmised that, like many similar locations in the Blue Mountains, a wooden viewing platform had once graced the same spot, perhaps over 100 years ago. It was this archeological evidence which makes me believe the waterfall has a name, despite the absence of one, or even the existence of the waterfall itself, from every map and source I could find.
But … another RBer had posted a shot of the same waterfall and named it "Lurline Falls". "Lurline" is a name I am familiar with, as it is also the name of a street in nearby Katoomba, but it was enough for my mate, the ever-helpful Garth Smith, to do a search and come up with a possible answer. He kindly sent me a link to what I quickly discovered to be an amazing treasure-trove of historical photography of New South Wales in the period from 1880-1920 – a huge database on the Powerhouse Museum website of images captured by Charles H. Kerry and his employees, now called the Tyrrell Photographic Collection.
The collection consists of 1,570 photographic records. Many of the glass plates have been scanned and uploaded, but this work is continuing as many are yet to be displayed. One of the images in the latter category is named "85/1284-202 Glass negative, full plate, 'Lurline Falls, Katoomba', Kerry and Co, Sydney, Australia, c. 1884-1917", and so, for now, my mystery remains unsolved.
But I looked at every image that had been scanned, and the collection is simply amazing. Then it struck me. Over the past few years, I have been unknowingly standing in exactly the same spots with a tripod as these photographers did 100 years or more ago, time after time, be it on a rock in a creek below Jenolan Caves or under a particular archway at the Sydney General Post Office.
Suddenly, my contemporary representations were taking on new meaning. The old stone steps next to the Blue Lake had a fixed rope rail and a gentleman model. The mark on the stone column at the GPO is exactly the same as it was 100 years ago. My nostalgic mono shot of the Sydney Town Hall with the tilt+shift lens had to deal with the clutter of contemporary buildings nowhere to be seen all that time ago. And just about every waterfall I have shot in the Blue Mountains had been photographed by this crew all that time ago. I was wondering how they had achieved carrying all that gear down to those places until I found the photograph of the packing horses! Of course!
The more I looked, the spookier it felt. Especially as most of my shots were also done with Monochrome settings (in RAW). I've been channelling these guys, surely. I thought I'd show you some comparatives in this Journal. But first, some notes. All the images you see here from the Powerhouse Museum website have "no known copyright restrictions" and have been made freely available for public download and use by the Powerhouse Museum through the Commons on Flickr.
And the man Charles Kerry?
Charles Kerry was born in 1858 and by 1885 was running a studio in partnership with C. D. Jones. This partnership lasted until 1892, when Charles became sole owner and changed the studio's name to Kerry and Co. By 1890 the company was employing a number of photographers who would become famous in their own right. George Bell who covered rural New South Wales was employed in 1890 and Harold Bradley was doing outdoor work and covering events around Sydney by 1899.
Kerry continued to work in the field and in 1895 he took photographs of Royal National Park for New South Wales Government, photographed Queensland artesian bores and was employed by the New South Wales Government to travel the state and photograph Indigenous Australians. In 1897 Kerry led the first party to reach the summit of Mt Kosciusko in winter conditions and photographed the Jenolan caves.
By 1900 Kerry had turned his studio into one of the largest and most respected photographic establishments in the colony. His new four story premises at 310 George St were designed by the architect H. C. Kent and the third floor studios alone could accommodate 70 people wanting their portraits taken. In 1913 Kerry retired leaving the running of the studio to his nephew, unfortunately the business did not do well and Kerry and Co. closed its doors in 1917. Kerry himself died in 1928.
Author: Geoff Barker, Curatorial, January 2009, Powerhouse Museum
Enough of the talking, check these out. Unfortunately, there is no information on the actual equipment used by Mr Kerry.

85/1284-1706 Glass negative, full plate, 'The Bathing Pool, Jenolan', Kerry and Co, Sydney, Australia, c1884-1917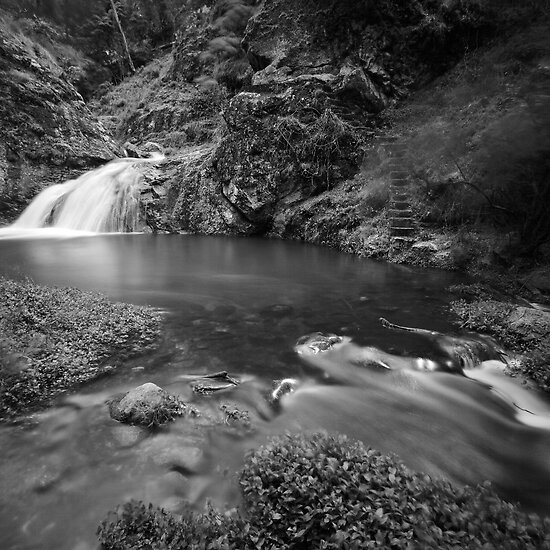 Canon 5D Mark II, Canon EF 16-35mm f2.8L II Zoom Lens with Lee Big Stopper ND filter, ISO 50, f8, 30 seconds, September 2010
The stone steps were part of the infrastructure for a hydro power station down below the weir on the Blue Lake, the ruins of much of which are still to be found. A portrait shot here though is harder now given the tree growth.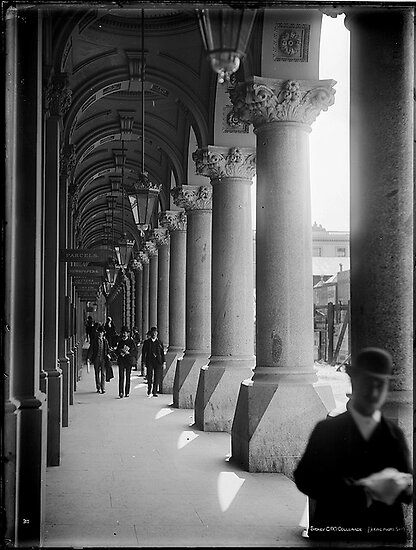 85/1285-240 Glass negative, full plate, 'Sydney GPO Collonade', Henry King, Sydney, Australia, c. 1880-1900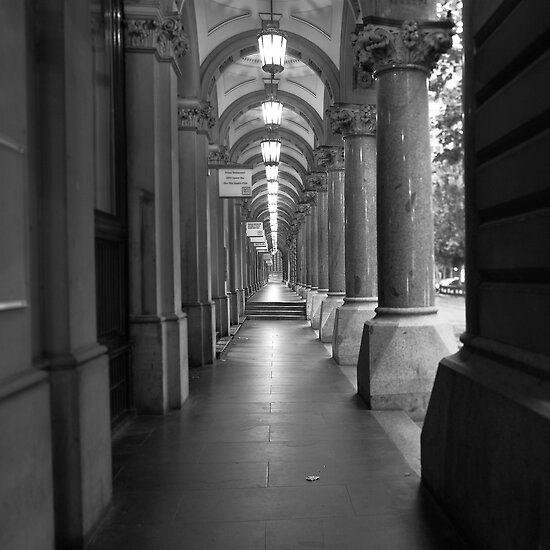 Canon 5D Mark II, Canon TS-E 24mm f2.8L Tilt+Shift lens at maximum vertical tilt, with Hoya NDx400 filter, ISO 50, f9, 10 seconds, 8 January 2011
You can see the same marks on the far right column in both photographs. My shot has nobody in it as it was taken at dawn on a Saturday. The ND x400 would have removed them anyway.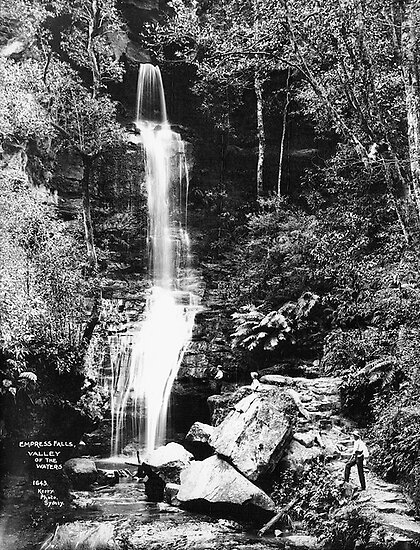 85/1284-771 Glass negative, full plate, 'Empress Falls, Valley of the Waters', Kerry and Co, Sydney, Australia, c1884-1917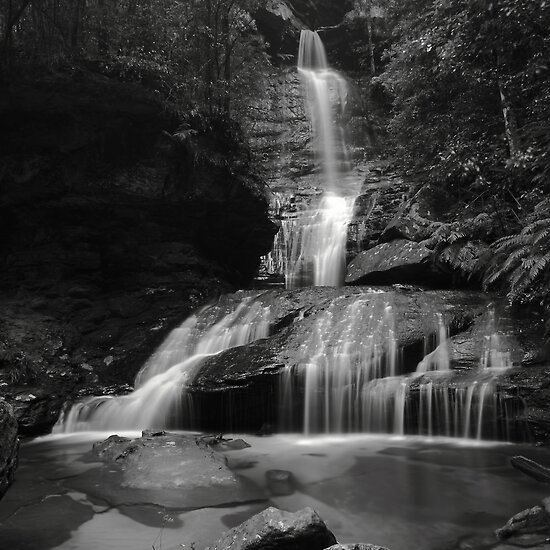 Canon 5D Mark II, Canon EF 24-70mm f2.8L lens, with Hoya ND x400 filter, ISO 50, f7.1, 300 seconds, 4 September 2009
One of the most photographed waterfalls in the Blue Mountains. the pathway remains in the same place, with much of it consisting of carved steps into the sandstone rocks. Railings at various times over the years have all been washed away.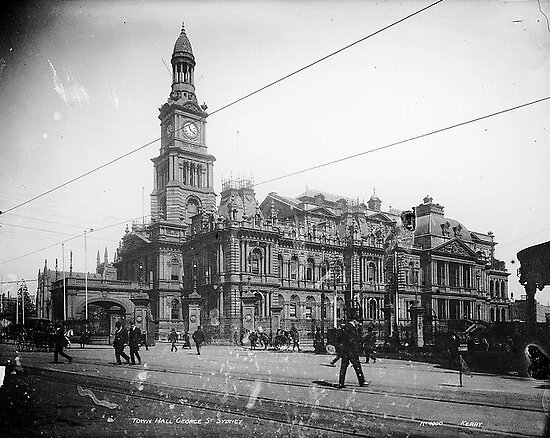 85/1284-1826 Glass negative, full plate, 'Town Hall, George Street, Sydney', Kerry and Co, Sydney, Australia, c1884-1917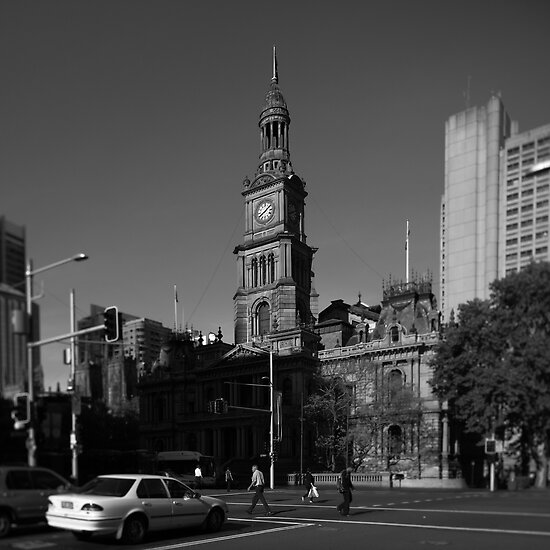 Canon 5D Mark II, Canon TS-E 24mm f2.8L Tilt+Shift lens at maximum tilt, ISO 50, f8 at 1/100 second, 14 November 2010
Comparing these 2 shots gives away the fact that the entrance pavilion at the front of the Town Hall was at some stage removed, and replaced by sweeping stone steps. The trees also now hide most of the magnificent facade on the right. [Edit: thanks to Mieke's eagle eye – see her comment below – it's a fair bet the Kerry photograph was taken with a view camera, with the front element turned sideways. Compare the top spire in both images – they are identical distortions. My version is due to engaging the tilt function of my tilt+shift lens which exactly replicates the operation of a view camera.]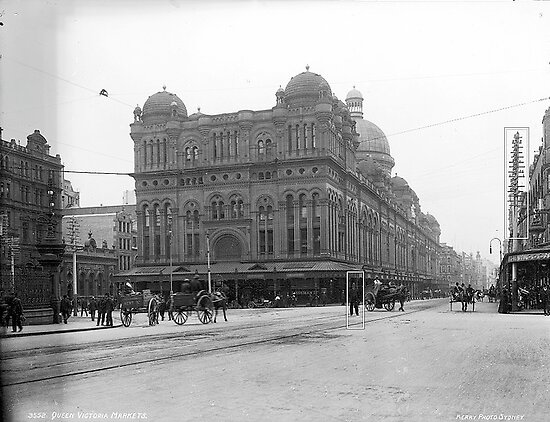 85/1284-1782 Glass negative, full plate, 'Queen Victorian [Victoria] Markets', Kerry and Co, Sydney, Australia, c1884-1917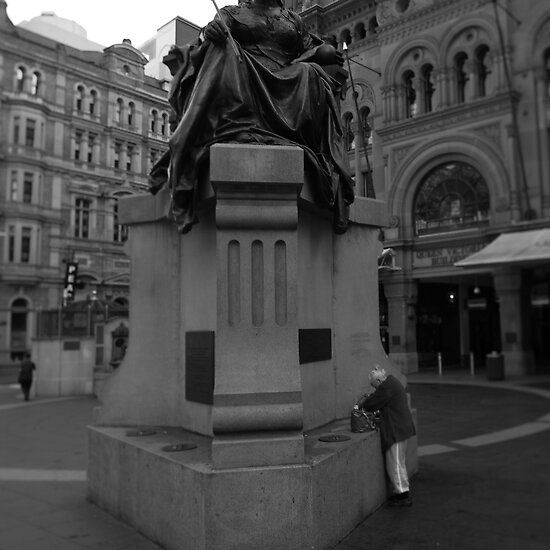 Canon 5D Mark II, Canon TS-E 24mm f2.8L Tilt+Shift lens at maximum tilt, ISO 50, f8 at 1/25 second, 14 November 2010
Although my shot was taken from a completely different spot, it is interesting that 100 years ago it was much easier to get complete buildings in frame than now! Some of the Kerry photographs of Sydney CBD buildings are stunning for that reason as they convey the complete "space" of many fine Victorian-era buildings. The Queen Victoria Building was saved from demolition (planned to make way for a carpark) in the early 1980s. My shot shows the statue of Queen Victoria which was located overseas, I think from memory, and installed after the renovation at the south frontage of the building you see in the original Kerry image.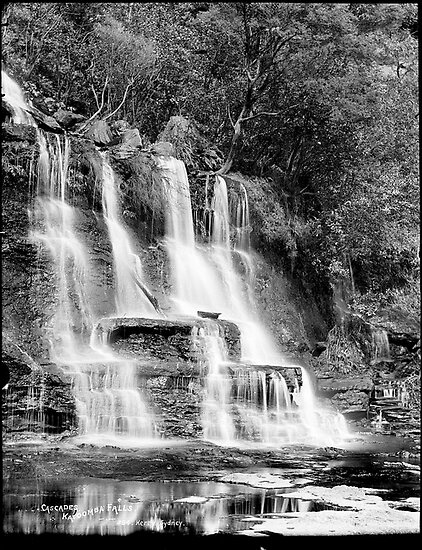 85/1284-229 Glass negative, full plate, 'Cascades, Katoomba Falls', Kerry and Co, Sydney, Australia, 1884-1917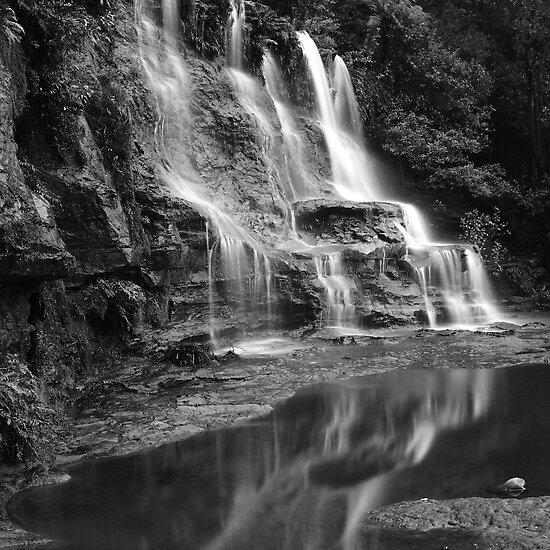 Canon 5D Mark II, Canon EF 24-70mm f2.8L lens at 43mm with Hoya ND x400 filter, ISO 50, f11, 90 seconds, 4 July 2009
Thanks to NSW being the Nanny State, you are not actually "allowed" to shoot the middle section of Katoomba Falls from this spot. Although it is a large flat rock platform of several metres width, there is a straight drop of several hundred feet behind my shoulders and that is why the nannies are worried. But hey, if it was safe enough for a large format camera on a tripod and a guy in a suit, then what's the problem with a Manfrotto and me?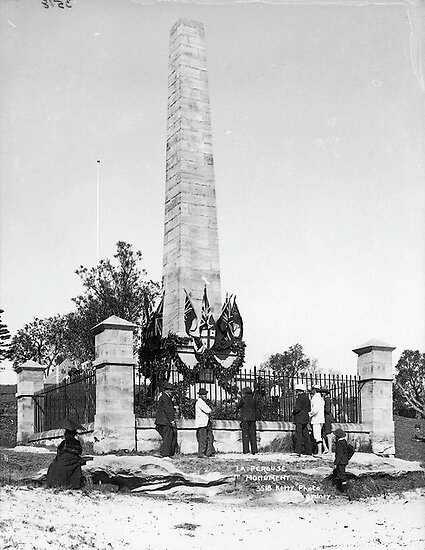 85/1284-1759 Glass negative, full plate, 'La Perouse Monument', Kerry and Co, Sydney, Australia, c1884-1917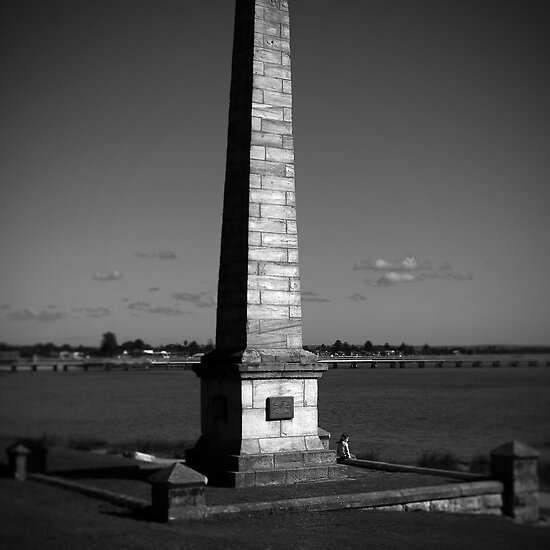 __Canon 5D Mark II, Canon TS-E 45mm f3.5 Tilt+Shift lens at maximum tilt, ISO 50, f8 at 1/500 second, 14 June 2010_
Looking at the monument today marking the spot where Captain Cook landed in Botany Bay in 1770, you wouldn't know it was originally surrounded by a high steel paling fence. It seems the middle sections of the 4 corner pillars have also been taken out at some stage. I originally uploaded this image and titled it "Far Kurnell". Nowadays the hillside trees are all mature and an IR heaven on a sunny day.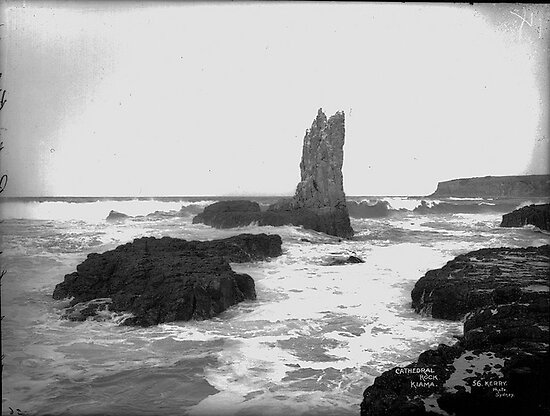 _85/1284-31 Glass negative, full plate, 'Cathedral Rock, Kiama', Kerry and Co, Sydney, Australia, c1884-1917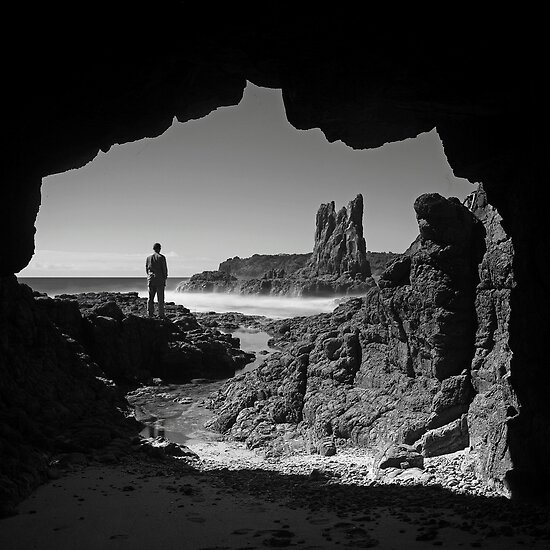 Canon 5D Mark II, Canon EF 24-70mm f2.8L lens at 34mm with Hoya ND x400 filter, ISO 50, f8, 25 seconds, March 2010
It's a pity Mr Kerry didn't venture a bit further around the headland to take his shot from the same cave we found on our shoot, but this rock feature has been shot by many others in the intervening years from all sorts of angles. I have a few more on RB.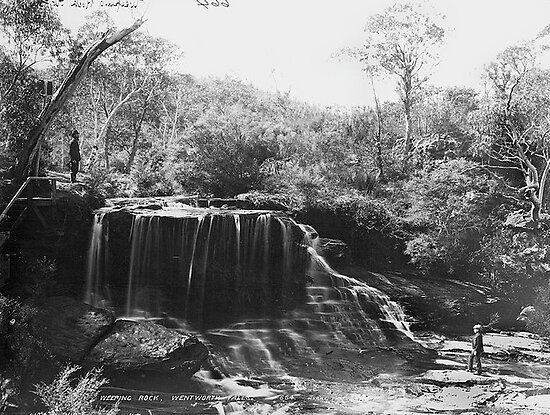 85/1284-359 Glass negative, full plate, 'Weeping Rock, Wentworth Falls', Kerry and Co, Sydney, Australia, c1884-1917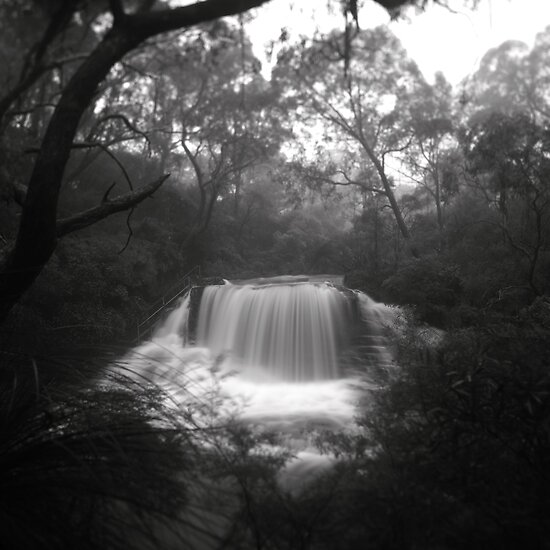 Canon 5D Mark II with Canon TS-E 24mm Tilt+Shift Lens tilted at W #110 ND Filter, ISO: 50, f6.3, 84 seconds, 7 February 2010
I've commented before about the Victorian-era habit of building pathways, stairs and viewing platforms as close as freakin' possible to the attraction, and Kerry's photograph demonstrates this. Love the models. Notice that the original stairs and railing were wooden. These were later replaced with steel versions, which as you can see from my shot are still there. Notice also the vegetation back then was sparse compared to today.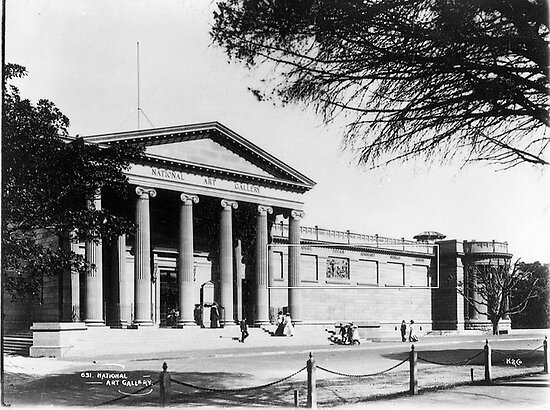 85/1284-2151 Glass negative, half plate, 'National Art Gallery', Kerry and Co., Sydney, 1909-1917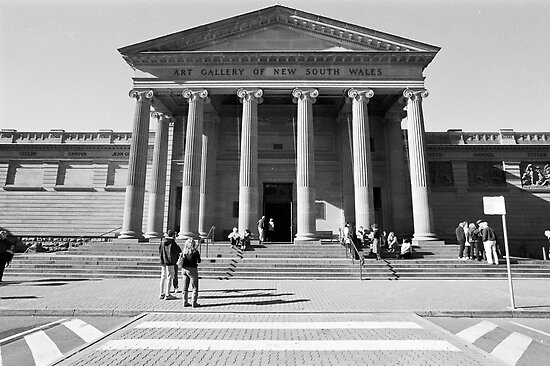 Canon EOS-3, Carl Zeiss Distagon 21mm f2.8 lens, ISO 100, f8, 1/80 second, Ilford B&W Film, 19 June 2010
I didn't know that the NSW Art Gallery was originally the National Art Gallery, but I suppose the other states eventually got their noses out of joint.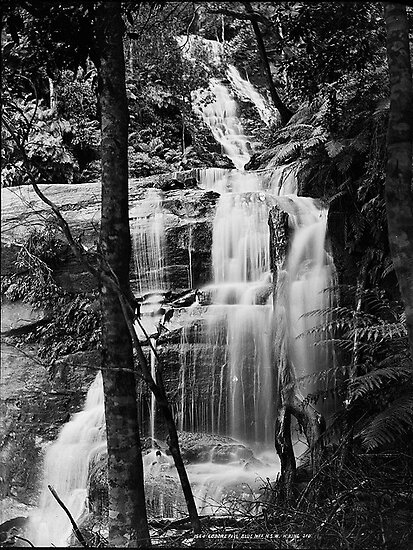 Glass negative, full plate, 'Lodore Fall, Blue Mountains, N.S.W.', Henry King, Sydney, Australia, c1880-1900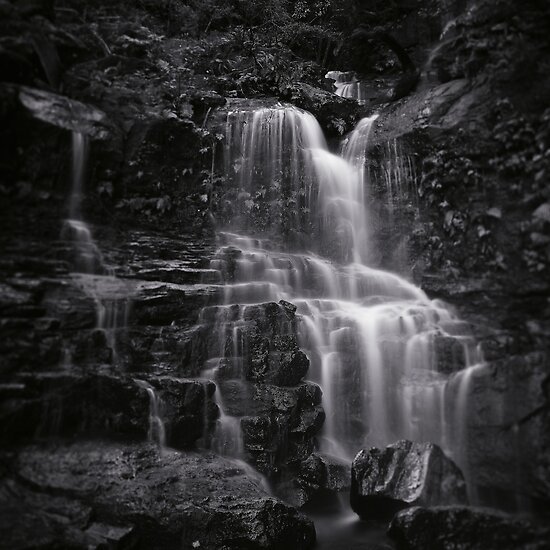 Canon EOS 5D Mark II with Canon TS-E 24mm f3.5L Tilt+Shift lens, with Hoya ND x400 Filter and Lee 1.2 Hard Grad ND Filter, ISO: 50, f8, 165 seconds, July 2010
The interesting thing for me seeing the Kerry photograph is that his chosen angle was influenced by the top flow of Lodore Falls, and so was mine, only these days the top flow comes from the right, and the left is a minor flow.
Anyway, I'll stop the comparisons there. I recommend anyone interested in the photographic history of NSW head on over to the Powerhouse Museum website for a gander at the Tyrrell Collection. I'll be going back now and again to check the progress of the digitisation project. And to see if Kerry's "Lurline Falls" are indeed my mystery falls.
Cheers
Peter