Postcard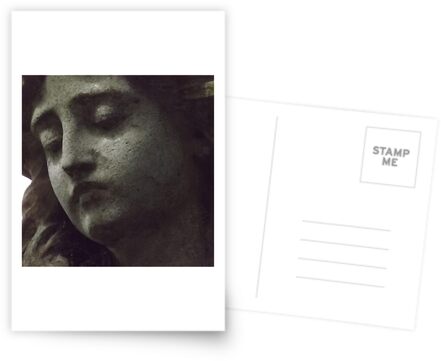 TECHNICAL
CAMERA: FujiFiIm FinePix S3200.
DATE: Mon 22nd Aug 2011
LOCATION: West Norwood cemetary, UK, London, SE27.
---
DESCRIPTION: To be perfectly honest, I thought this close up head shot of a beautiful stone sculpture; seemed to represent 'the peacefully sleeping dead' really very well, indeed.
---
In all I recall taking around 1,026 photos that day; though, not all of the cemetary; some were of the local church/-etc.; and, this was just merely a single 'one' of those shots.
---
Being a total beginner…somebody who is relatively 'new' to the art of using digital cameras…therefore, many of my shots I took were, in fact, 'repeat' shots. Such as…
I want it center…but, it's NOT dead center, yet…will need to try, again!
Oh no, my camera hand shook; and, now, it's come out all 'blurry'…will need to try, again!
I shot too much into the light/and, so the rest of the subject has come out far 'too dark'…try again! Etc.
In short, I went and discovered that learning the art of 'digital photography' isn't exactly simple, straight forwards, nor, easy; many times, you have to take and re-take each separate shot, again and again.
---
Too, which is the best position to shoot from, in front/off to the side either left, or else, right/or, maybe, from the back…; kneeling from down below/or else, standing up using ordinary eye level…; should I take a close up/mid-distance shot/or, far distance shot?! Maybe, I should just try taking, at least, 'one' of every possible point of view; and, then, go home and sort out the battle of which one is 'best' at leisure, later on.
---
I also tried my best to be really careful to look, first; to see exactly where I went and placed my feet; as I didn't wish to go step on anybody's grave!