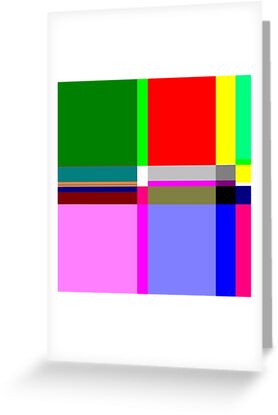 Digital art, created using the mouse inside of Windows MS Paint program.
For me, art is essentially a process of self-discovery. It's also a very long process as well; depending on just how much you wish to go learn about yourself; and, how willing you are to take risks…and, indeed, keep on taking risks in order to know more.
In my time, I have tried doing many different art forms; some inspired by old masters/and, some inspired by masters who are new. This particular work, I feel is Modrian inspired.
The way I went and created it was, first, create a grid of 3 vertical coloured lines; and, then, break this up, and, expand it…just to see where the composition is going to go next…??? You might decide you like this colour/or, not; but, if not; then, quite simply, change it…; you might decide you like this line being placed here/or, not…if not, change it. Eventually, this was the final composition which my mind decided to agree on was 'right'.
In the process of trying to create the final composition; I discovered that my mind likes things to be ordered; and, symmetrical shapes are a lot more pleasing than are non-symmetrical; that certain colours seem to work very well with one another; whilst others tend to clash, and, thus, break up the overall sense of harmony; that, too simple is boring/and, too complex extremely confusing?! Ultimately, it was both an enjoyable and interesting exercise to try.