22th of February biting cold, blue skies, icy wind Syl and I sitting in the garden with scarf, duffle coat, woollen socks and clogs (yes the yellow ones!!) in garden chairs sheltered from the wind.
It was -3 degrees, drinking our coffee and act as if it was Spring, exactly like the Hazel tree did too.
Syl and I would be great candidates for " Twits of the Year competition".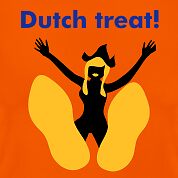 Dutch Treat by patjila