© All Rights Reserved. This image may not be copied, reproduced, published or distributed in any medium without my written permission.
RMIT university campus,Russell St,Melbourne city,Australia
This shot was taken when the nuns and monks were leaving to face the public for pindabatta. The light was from the open door. I was very privileged to be able to take part ( asked to be the photographer by the UN Vesak organising committee to help take photos. I was able to be where the public were not allowed.)
It was the first time (12th May 2012) that Pindabata was carried out in Melbourne city.
On Vesak day, devout Buddhists and followers alike are expected and requested to assemble in their various temples before dawn for the ceremonial, and honorable, hoisting of the Buddhist flag and the singing of hymns in praise of the holy triple gem: The Buddha, The Dharma (his teachings), and The Sangha (his disciples). Devotees may bring simple offerings of flowers, candles and joss-sticks to lay at the feet of their teacher. These symbolic offerings are to remind followers that just as the beautiful flowers would wither away after a short while and the candles and joss-sticks would soon burn out, so too is life subject to decay and destruction. Devotees are enjoined to make a special effort to refrain from killing of any kind. They are encouraged to partake of vegetarian food for the day. Vesak is an annual holiday observed traditionally by practicing Buddhists in many Asian countries like India, Nepal, Hong Kong, Singapore, Vietnam, Thailand, Cambodia, Malaysia, Sri Lanka, Myanmar, Indonesia and Taiwan.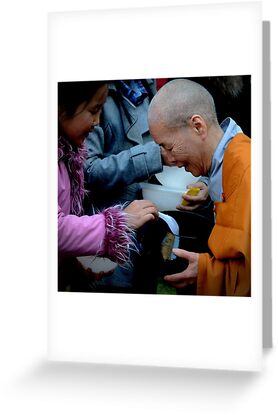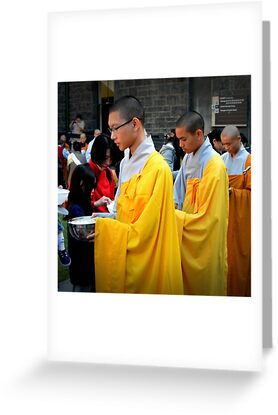 From Wikipedia:
In Buddhism, alms or almsgiving is the respect given by a lay Buddhist to a Buddhist monk, nun, spiritually-developed person or other sentient being. It is not charity as presumed by Western interpreters. It is closer to a symbolic connection to the spiritual realm and to show humbleness and respect in the presence of the secular society. The act of alms giving assists in connecting the human to the monk or nun and what he/she represents.In Theravada Buddhism, monks (Pāli: bhikkhus) and nuns go on a daily almsround (or pindacara) to collect food. This is often perceived as giving the laypeople the opportunity to make merit (Pāli: puñña). Money should not be accepted by a Buddhist monk or nun in lieu of or in addition to food
Featured in
Superbly Visual 14th May 2012
Life in the city suburb or bush 17th May 2012
Superbly Visual
Exquisition 18th May 2012
Exquisition
The Silky Touch 18th May 2012
The World 20th May 2012
Black with a hint of Colour 29th May 2012
Postcard Style 19th July 2012
The Human Condition 14th April 2013
The Human Condition
Vavoom 20tht May 2013
Vavoom
Challenge Winner in
Black with a hint of colour 3rd June 2012
Black with a hint of colour
Top Ten
Bicolour Beauties -Avatar challenge 21st March 2013
Bicolour Beauties