Harlequin bugs on a bull thistle in my garden. Lots of them this summer.Melbourne.
The harlequin bug is a kind of stinkbug. This stinkbug is about 3/8 of an inch (10 millimeters) long. These dazzling colors warn predators to stay away from this stinky bug.
Harlequin bugs often "hang out" on the leaves of their favorite crop: cabbage. These bugs often gather in large bunches. When they do, they can quickly destroy a cabbage crop.
Featured in
Bugs Kingdom 10th April 2011
Bugs & Animals on flowers in macro 10th April 2011
The World as we See it or Missed it 17th OcT 2011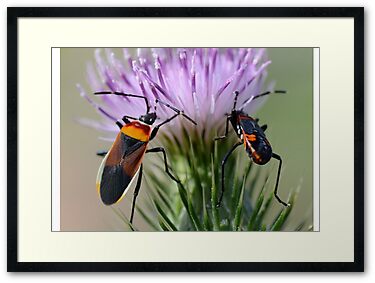 Nikon D7000
Tamron macro 90mm