© All Rights Reserved. This image may not be copied, reproduced, published or distributed in any medium without my written permission.
Saw this ???leaf beetle larvae ( chrysomelinae) on a leaf in my garden. It moved very fast and was gone in a flash. I did try to find it on the bush but it just disappeared. I've tried to identify it on the net and I am not sure if I've got it right. It does look a bit like the elm leaf beetle which is a pest. Can someone please help me to identify this larvae?
Trish Meyer,a RB member has kindly given me the link to identify this beautiful larvae.It is a fungus eating ladybird ( Illeis galbula) larvae that feeds only on powdery mildew type of fungus ( Oidium sp.Erysiphales).How interesting!
http://www.brisbaneinsects.com/brisbane_ladybir...
Featured in
Let Animals Stay Free 21st March 2011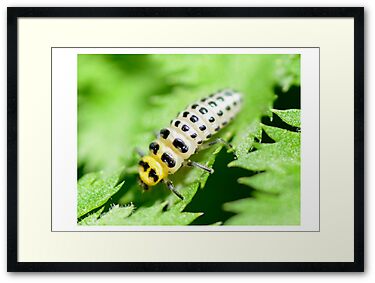 Nikon D7000
Tamron macro 90mm