© All Rights Reserved. This image may not be copied, reproduced, published or distributed in any medium without my written permission.
It was 5am at River Ganges,Varanasi ,India. Mystical atmosphere with the sun rise, lots of boats and people starting to gather to wash themselves in the holy river.
From the internet:
River Ganga or the Ganges is a major river of the Indian subcontinent, associated in myth and reality with the land and people of India as well as neighboring countries like Bangladesh. In Hinduism, the river Ganga is personified as Goddess and holds an important place in the Hindu religion. In Hindu mythology, it is believed that bathing in the river Ganga causes the remission of sins and facilitates the attainment of salvation or nirvana. This deep-rooted truth is proved by the fact that people travel from distant places to immerse the ashes of their kin in the waters of the Ganga at Varanasi or other places located on the banks of this holy river.
Featured in
Let There Be Light 20th Feb 2011
Live, Love, Dream 19 th March 2011
Colours of India 5th Feb 2012
Top Ten in
Cee's Fun Artsy Friends Challenge Alphabet D 18th May 2011
Cee's Fun Artsy Friends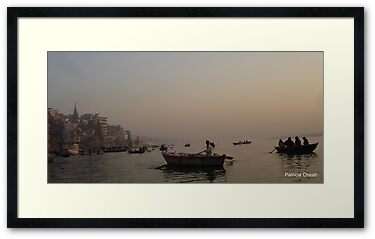 Point & shoot Sony DSC-W1 1/200s
focal length: 7.9mm f/5.6
ISO: 100
handheld
auto