Canon 50D
18 – 55, 58mm
This incredibly cool installation arrived in Melbourne city late last year for Melbourne Music Week, a festival that highlighted and showcased some of our local talent. The Kube, as it is known, has travelled around the globe and finally landed on our shores, after much hype. The kube itself is a light up, portable bar, complete with stage, licensed bars and cafe (by day). The kubes are synchronised to the music and light up in sequence to sound, coordinated by a Video DJ.
Artists Universe – Image of The Day 1st March 2012
Featured in Art Universe
Featured in The World
Featured in Shapes & Patterns
Featured in Silhouettes
Featured in Exquisition
Featured in The Group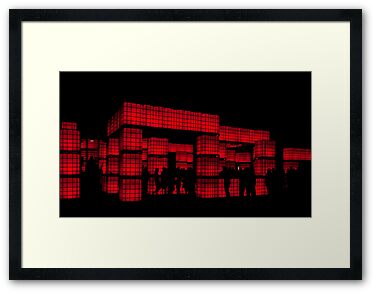 The night I visited we were given red, but they glowed a different colour each night. Below is a video of my mate Dean Benson (who a lot of you would remember from previous shoots) closing the week with a bang! The atmosphere this place created can't be described in words. Well done Deano! :)
Captured 10pm
Original RAW file converted and edited in Photoshop CS5. No textures, layers or colour altering.
MCN: C8T1A-TNM83-JXNHY
<a href='http://www.myfreecopyright.com/registered_mcn/C...' title='MyFreeCopyright.com Registered & Protected' ><img src='http://storage.myfreecopyright.com/mfc_protecte...' alt='MyFreeCopyright.com Registered & Protected' title='MyFreeCopyright.com Registered & Protected' width='145px' height='38px' border='0'/></a>