Another image from my balloon ride over Cappadocia, Turkey. We spent an hour drifting high over the region, taking in the amazing views of the volcanic formations below us.
Featured in High Quality Images
Featured in Shameless Self Promotion
Featured in Atmospheric Land & Seascapes
Featured in Live Love Dream
Featured in New To Vintage
Featured in South West Art & Photography
Featured in The Male Photographer
Featured in Visual Texture
Featured in Art Universe
Image blended with textures from www.deviantart.com – free use stock: Visualogist and some of my own. Topaz Adjust filter applied. Created in Photoshop CS4.
Canon 50D
55 – 250, 58mm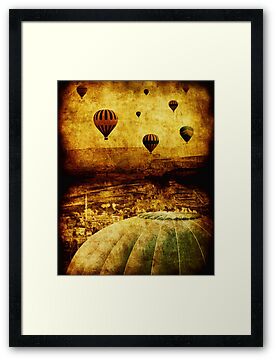 MCN: CP524-WNDFW-DYXVK
<a href='http://www.myfreecopyright.com/registered_mcn/C...' title='MyFreeCopyright.com Registered & Protected' ><img src='http://storage.myfreecopyright.com/mfc_protecte...' alt='MyFreeCopyright.com Registered & Protected' title='MyFreeCopyright.com Registered & Protected' width='145px' height='38px' border='0'/></a>