Best viewed large
This is the awe inspiring view from the top of Adam's Peak, one of the tallest mountains in Sri Lanka. I climbed the 7km stair laden trail to the summit in the middle of the night, to capture the sunrise over the mountains around.
It was a long climb of about 3.5 hours, traveling up 5,200 steps to a height of over 2000 metres above sea level. It was one of the hardest things I have ever put myself through, but it was definitely worth it, just to see this scene.
This was taken at 6.30am, as the sun lit the black skies all around us.
This journal entry details the climb, the sunrise, and the torturous trip back down the mountain.
Featured in Out Of The Blue
Featured in Mornings & Evenings Sunbeams & Storms
Featured in Extra-Ordinary Photography
Featured in The Group
Single RAW file, converted in Photoshop CS4. No textures or layers. Only editing is white balance, to bring back the exact blue hues of the morning it was taken.
The view on the way down: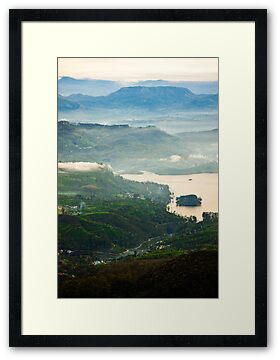 Canon 50D
55 – 250, 58mm
f4.5, 1/50, ISO 250
MCN: CUG3E-9CCAW-PKEQ7
<a href='http://www.myfreecopyright.com/registered_mcn/C...' title='MyFreeCopyright.com Registered & Protected' ><img src='http://storage.myfreecopyright.com/mfc_protecte...' alt='MyFreeCopyright.com Registered & Protected' title='MyFreeCopyright.com Registered & Protected' width='145px' height='38px' border='0'/></a>